There's nothing quite like the charm of a vintage beach cottage. Couldn't you just step into this picture and laze away the day? Luckily, even if you don't live near the beach, you can have the feel of the beach at home with vintage beach cottage decor. I've got some ideas to show you how to incorporate it into your home, no matter where you live!
What is vintage beach cottage decor?
You could say that vintage beach cottage decor combines the best of vintage, shabby chic, and beachy styles into one charming package. And the best thing about it is that you don't have to live near the beach to use it. Every home can benefit from the charm of vintage beach cottage decor! If you've already got a collection of vintage furniture and some beachy decor pieces, you're already most of the way there. You might have a piece of vintage furniture that's dark and seemingly unusable, but consider the ways you could flip it–even with just a fresh coat of paint in a beachy color.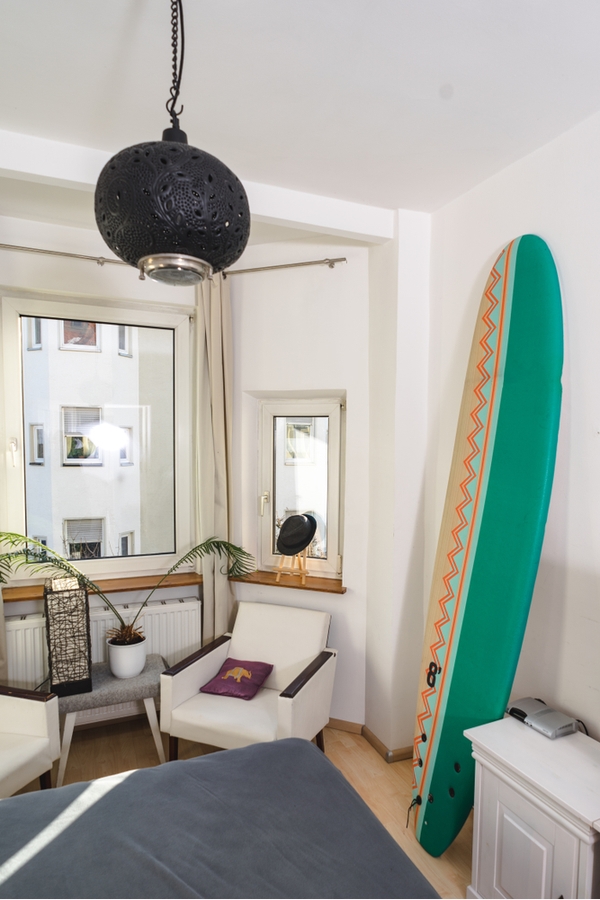 Vintage beach cottage decor ideas
One thing that you should include in your beachy decor is nautical stripes. They really add a nice touch to the entire space, and help others define it as "beachy." Don't be afraid to use things that are obviously beach-inspired as well, such as a vintage surfboard. It really brings a cool vibe to your space!
Vintage beach cottage decor colors
Another thing that will help set your space apart as beach-inspired is the color palette you use. One way to do this is with an array of blues, grays, and sea foam green. Notice that in this vintage beach cottage-inspired bedroom, there are a variety of blue shades, plus a variety of bold & subdued nautical stripes in the bedding. The white-washed wood accent wall also adds to the beachy feel of this room. Love it!

Vintage beach cottage decor accent pieces
Besides vintage furniture, vintage accent pieces play a role in vintage beach cottage decor. But it's easy to look around your home and take stock of what you already have that would fit the bill. Have you got any rustic baskets? Use them to hold a collection of blue and white throws and toss pillows in your living room.
An old wood tray is the perfect vehicle to display things like shells, driftwood, starfish and other beach accents you can find at Amazon. Can you see how the nautical navy stripes on the throw add fun color and dimension to the decor?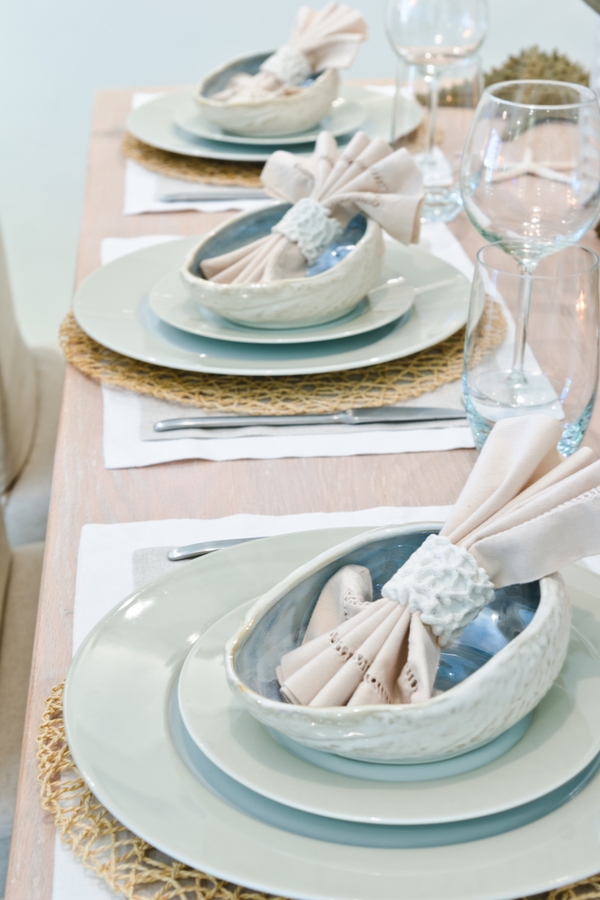 Even your table decor can be decidedly beachy! The pale blue-green dinnerware and bowls that resemble seashells are perfection and have a clear vintage vibe. The natural fiber chargers also add to the beachy feel. It's beautiful!
You might live in a city apartment, but you can still use these ideas to add vintage beach cottage decor and a fresh look to your place! Have fun with it!