Some people think of contemporary fireplaces as too cold. But that perception couldn't be further from the truth. The outside of a contemporary fireplace may be modern and clean-lined, but the inside will warm you right up just as well as a traditional gas or wood burning fireplace. Keep reading to see the reasons why you should warm up to a contemporary fireplace.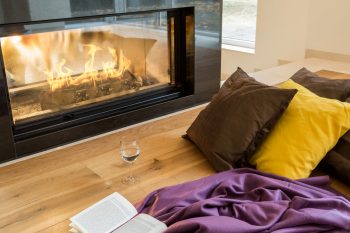 The ambiance created by burning real wood has warmed and intrigued human beings for thousands of years. But in today's world, clean air is definitely a bigger consideration. As a result, gas fireplaces have grown in popularity. A traditional gas fireplace provides the same look of burning logs, without the smoke that increases air pollution.
Today's gas fireplaces, either traditional or contemporary in design, offer some wonderful conveniences. They are virtually maintenance-free because there are no ashes or messy clean up to worry about! There is no smoke smell to contend with, and a gas fireplace is conveniently operated by a simple wall switch or remote control.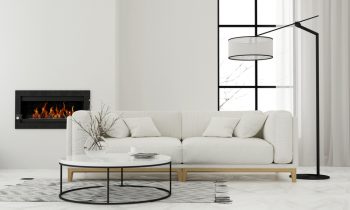 A contemporary fireplace may use realistic looking logs lit by LED lights to provide the look of glowing embers so many people like. This feature certainly increases the warmth and appearance of the fireplace when in use! Contemporary fireplaces also come in two-sided applications to bring coziness and real warmth to two rooms at once.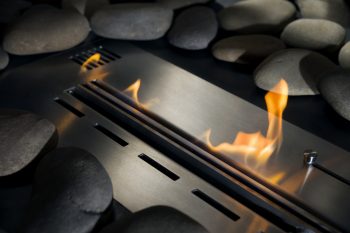 If you like the look of stylized flames, colored glass, shiny metal, and a clean design that pushes the boundaries, a contemporary fireplace is for you. The options are pretty endless and include things like beach glass or rocks. If you like the look of logs, a contemporary fireplace is easily combined with a more traditional look.
An additional benefit of a contemporary style gas fireplace is the ability to place the fireplace higher up on the wall. Some homeowners place their contemporary fireplace at eye level, like a piece of fine art!
To see some amazing contemporary fireplace inspiration, visit Houzz.