Zap is my almost 4-year-old.  He loves dinosaurs.  When we moved into our home, we promised him a bed.  As sad as he was at 3 years old to give up the pack and play sleep situation in our master bedroom closet, he has adjusted well.
I wanted to make his room really cute, since he had been sleeping in a room with such a pathetic ambiance.  Here are some cool wall hanging ideas for your kid's bedrooms!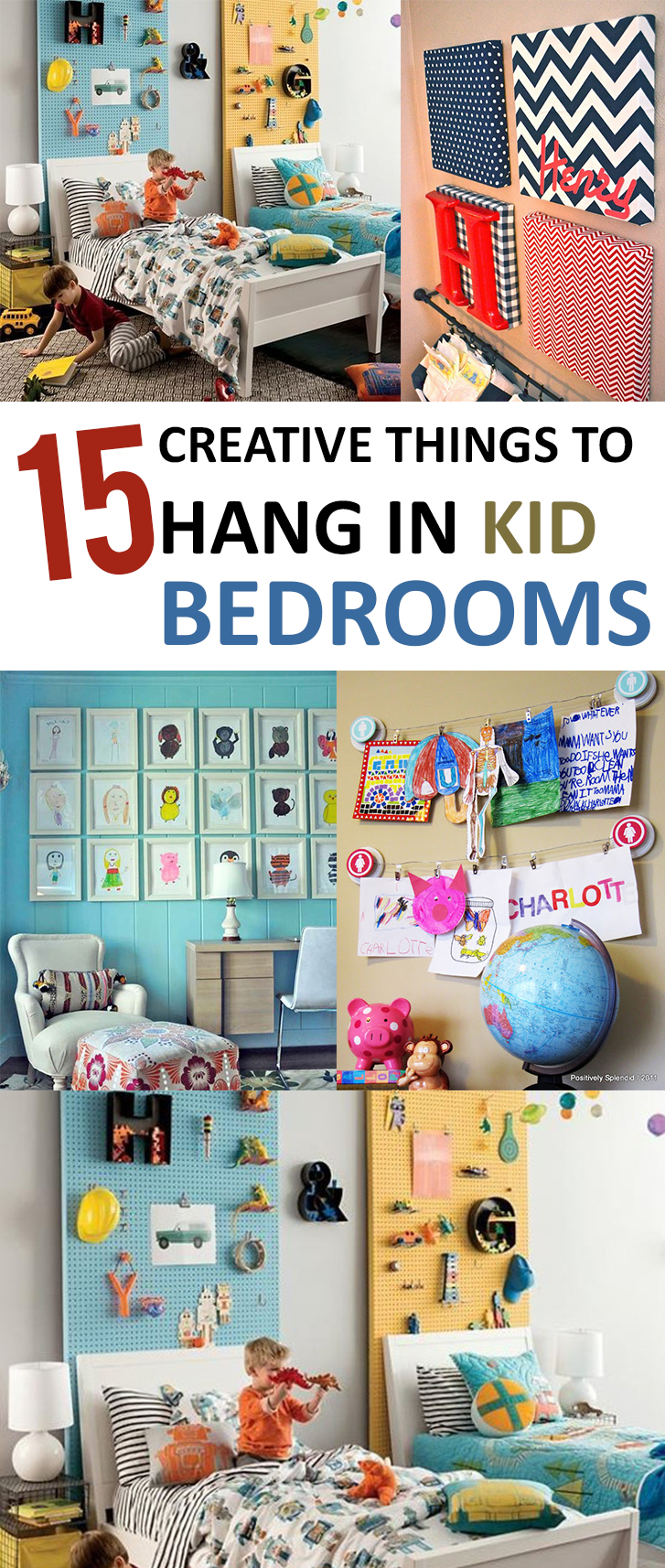 Sheet Music
I would love to do this above the piano that is sitting in my garage, waiting to be refinished.  Isn't this a great idea?  I may end up doing canvases with sheet music- you can take this idea and run with it!  Cute for a music room, nursery, kids room, etc. Idea from Houzz.
Car Wall Hanging
Sooo adorable for a boy's room or playroom, I love it!  You could spice it up by leaving the glass out and making them magnets, so the kids could actually play with it.  Great idea!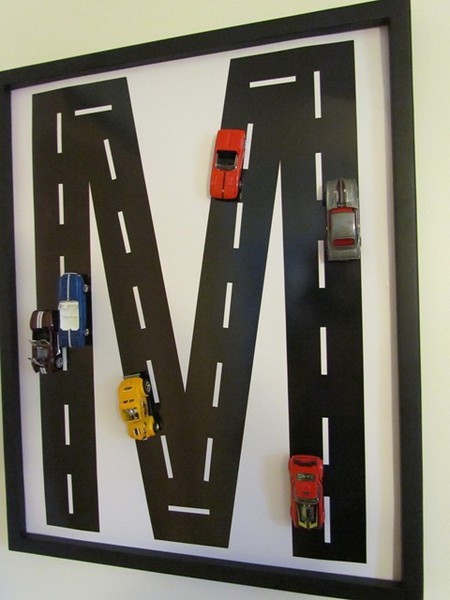 Antiques (or look-a-likes)
I love the idea of antique door knobs to hang coats, backpacks, purses, etc on.  Great way to add interest to a room, along with functionality!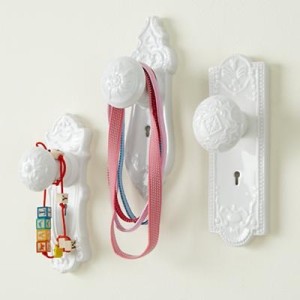 Idea from Land of Nod
Monograms
I love the different wall hangings that are all incorporated here, the different shapes of the signs are really cool also! Such cute idea from Susie Harris.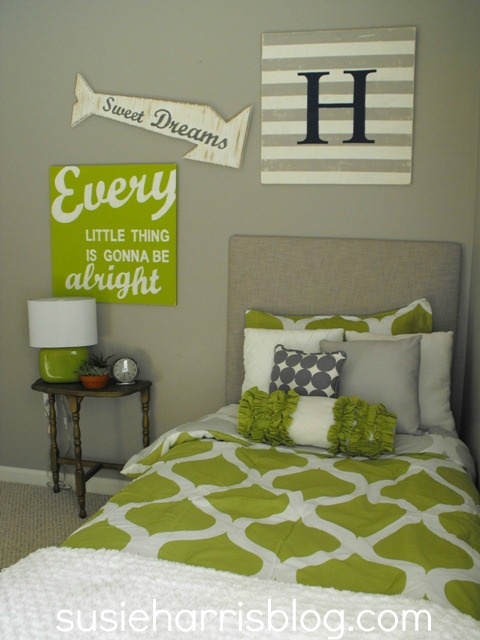 Canvas
The chevron print and the polka dots look so cute together! I love this!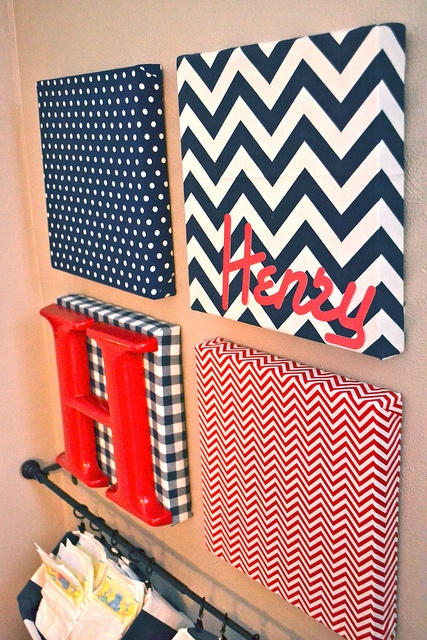 Idea from Newly Woodwards. 
Fabric Covered Foam Board
I have seen a few of these, and they are very cute.  I have also seen fabric covered foam boards that are also really fun. Great idea from Blush and Beautiful.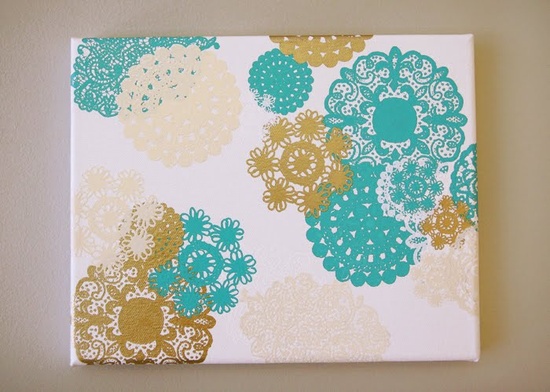 String Art
Use this great tutorial from instructables, to create your own string art. Of course, if you don't like to dream, other words are available!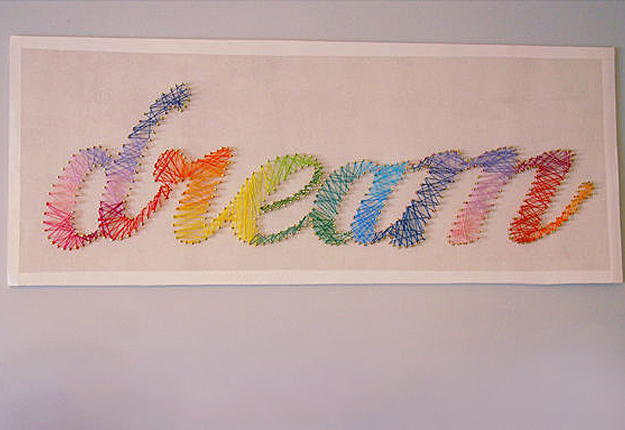 Pegboard
I love how versatile this idea is! You can hang anything and everything on a pegboard! I love how each boy has their "own" space to hang things up on! What a cute idea from Apartment Therapy.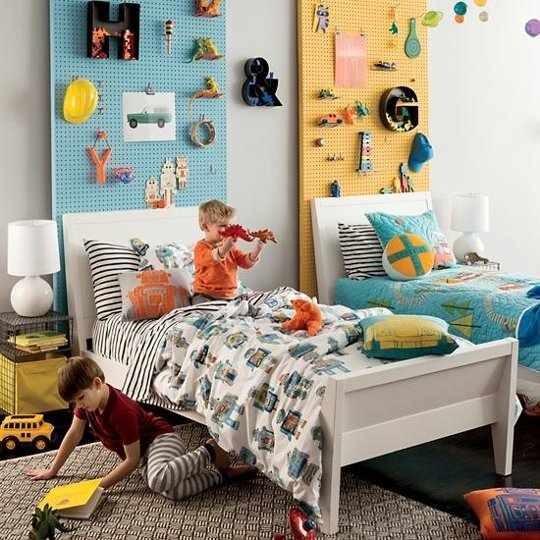 Mini Art Gallery 
Decorate your kids' rooms with their own artwork! You can use a variety of tools to make this, but I love the simplicity of this idea from Kidsomania.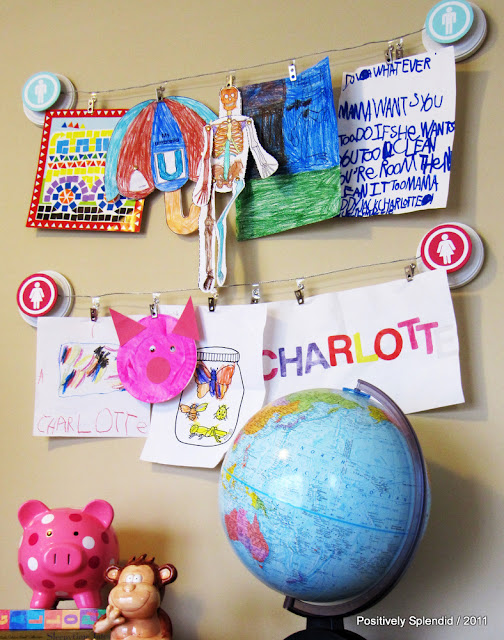 Crayon Art
This would be a really fun craft idea to do with your kids, and then you can hang it up in their room! Perfect! Use a small canvas, and glue crayons in a design. Use a blow dryer to melt crayons.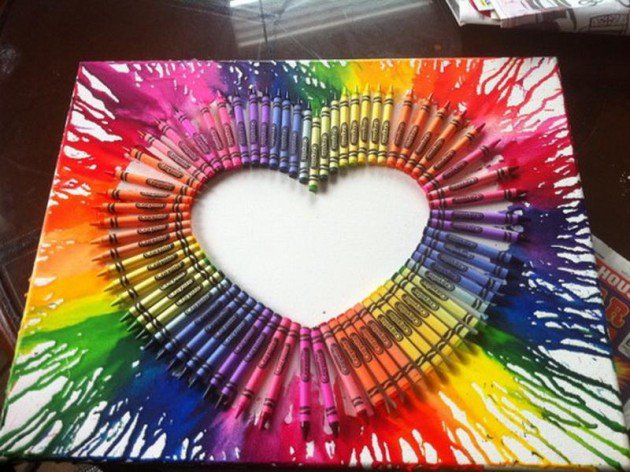 Magnet Board
Instead of cluttering up your refrigerator with plastic magnets, install a magnetic board in their room. This is so simple, and your kids are sure to love it. Idea from Oh Happy Day.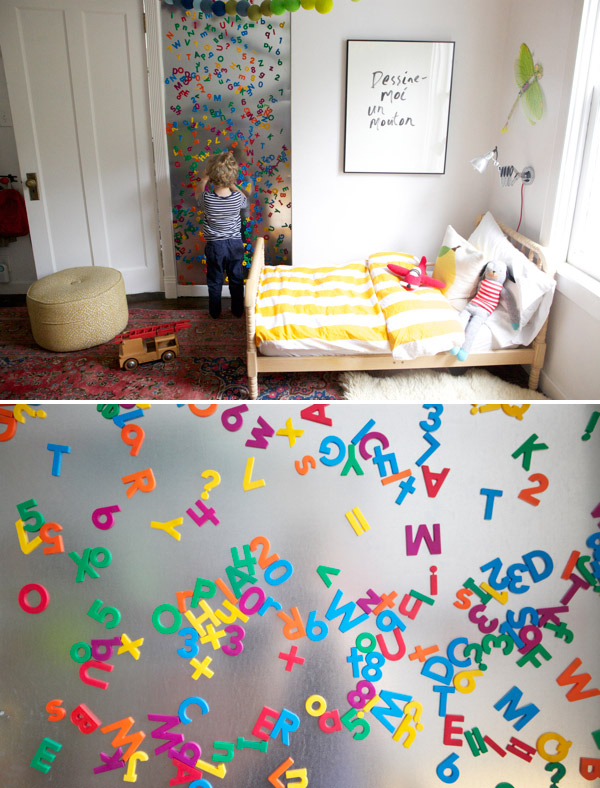 An Alphabet Wall
I love wooden letters. I think they add such a personal vibe to your space. I love the quirky letters and how everything is kind of mis-matched. This is perfect!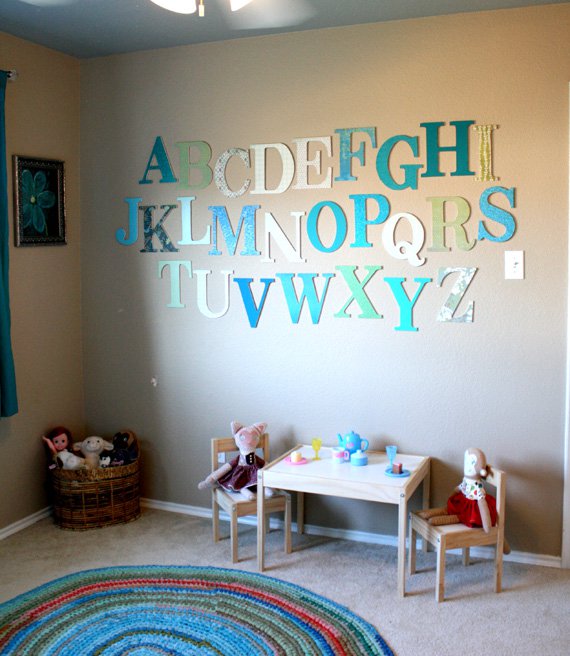 Chalkboard Wall
I love the idea of having a chalkboard wall in a bedroom. I love the idea that their walls will be covered with artwork. The little stools are perfect too! Yay for creativity!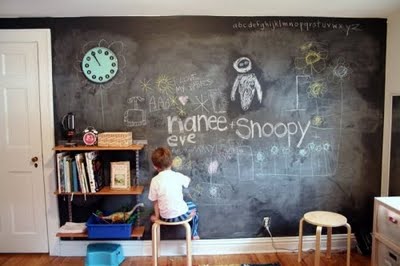 Lego Wall
A lego wall? Seriously? This would be beyond perfect in a playroom. I might play with this too! Wonderful idea from HGTV.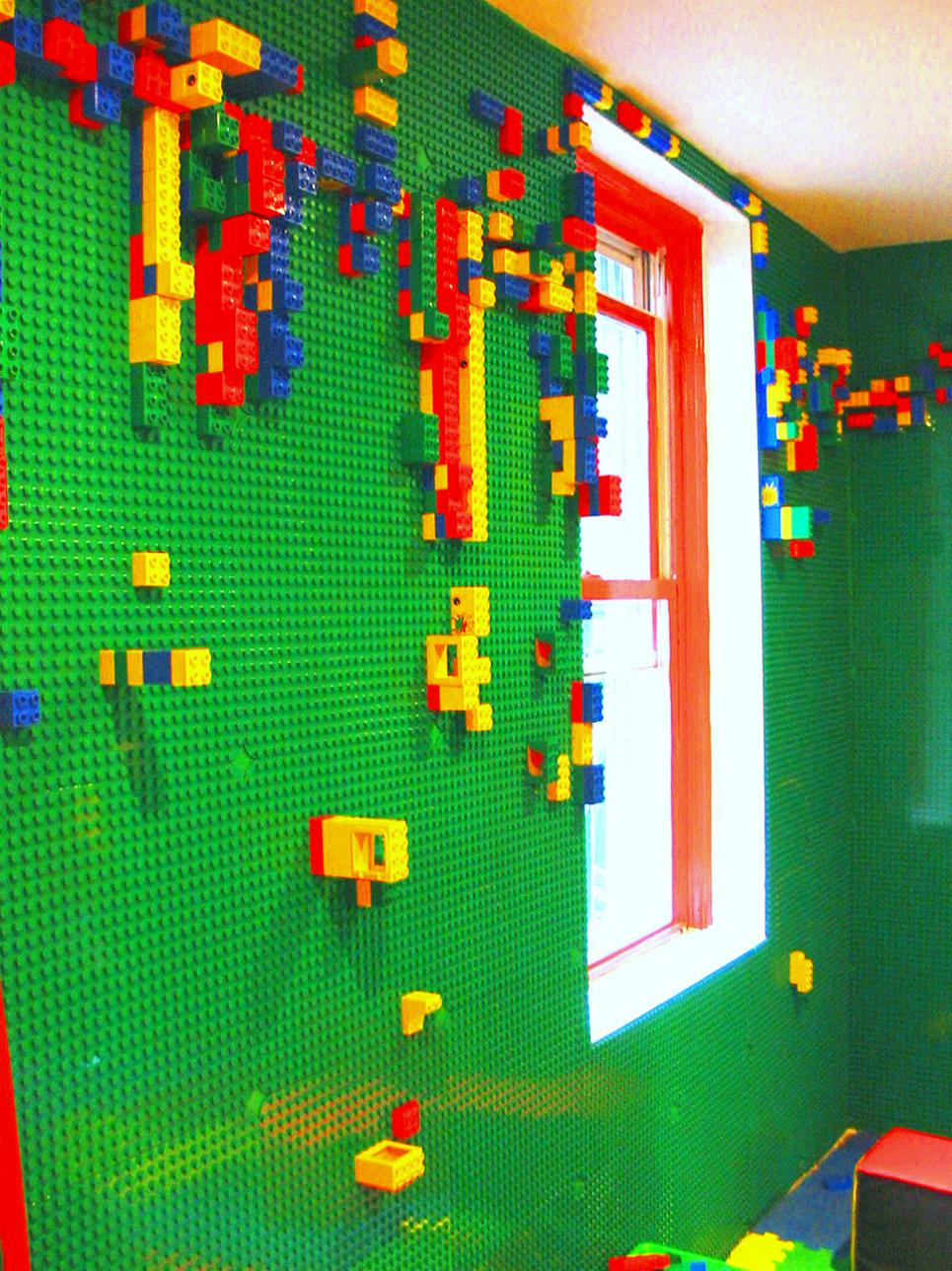 Framed Gallery
Another take on a kid's art gallery. Frame your kids best pieces and hang them in classy frames !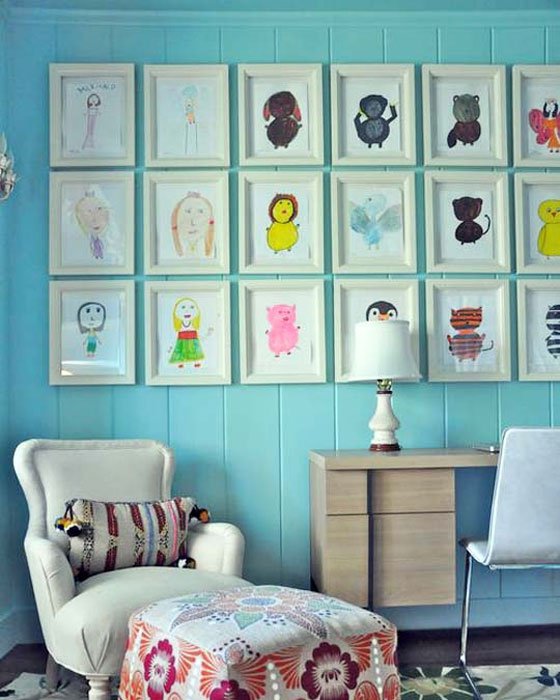 Image from Architectural Designs.