Macramé was big in the 1970s–and then quickly lost favor afterwards. But did you know that macramé is back in a big way? Oh yes, and you simply must check it out to see why. Here are 10+ must-try macramé craft projects!
1.Macramé doesn't have to involve any special textiles–some simple yarn will do quite nicely. One example is this lightbulb aquarium with a macramé hanger. Some yarn and a pair of scissors is all you need for the hanger.
2. This amazing hammock chair is made with the art of macramé, and you definitely need one!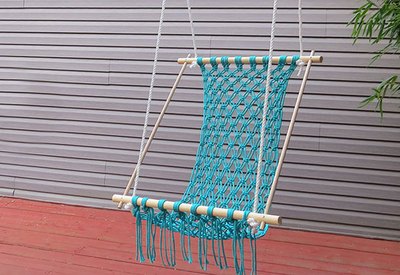 3. Wall hangings are one of the most popular macramé crafts. Here's one that's not too terribly difficult.
4. Jewelry is a great application for macramé. Make this bracelet with clay flowers attached.
5. Makeover a vintage aluminum lawn chair. Macramé is the perfect way to do this!
6. Aren't these macramé rings unique and beautiful?
7. Set off a closet doorway or a window perfectly with a macramé curtain.
8. Cover an unsightly lamp cord with macramé. It adds so much style!
9. Here's another wall hanging option that is just so adorable. If you love owls, you'll love this!
10. Take a pair of plain flip flops to something fantastic with the art of macramé.
11. I had to include this macramé watch band DIY project. Amazing!
Post Resources:
We Must Be Dreamers lightbulb aquarium hanger
eHow macramé hammock chair
Consumer Crafts wall hanging
Panda Hall Learning Center bracelet
A Beautiful Mess chair makeover
Macramé School rings
A Beautiful Mess macramé curtain
Rennes lamp cord
Macramé School owl
My White Idea DIY flip flops to sandals
SMP Craft macramé watchband free download