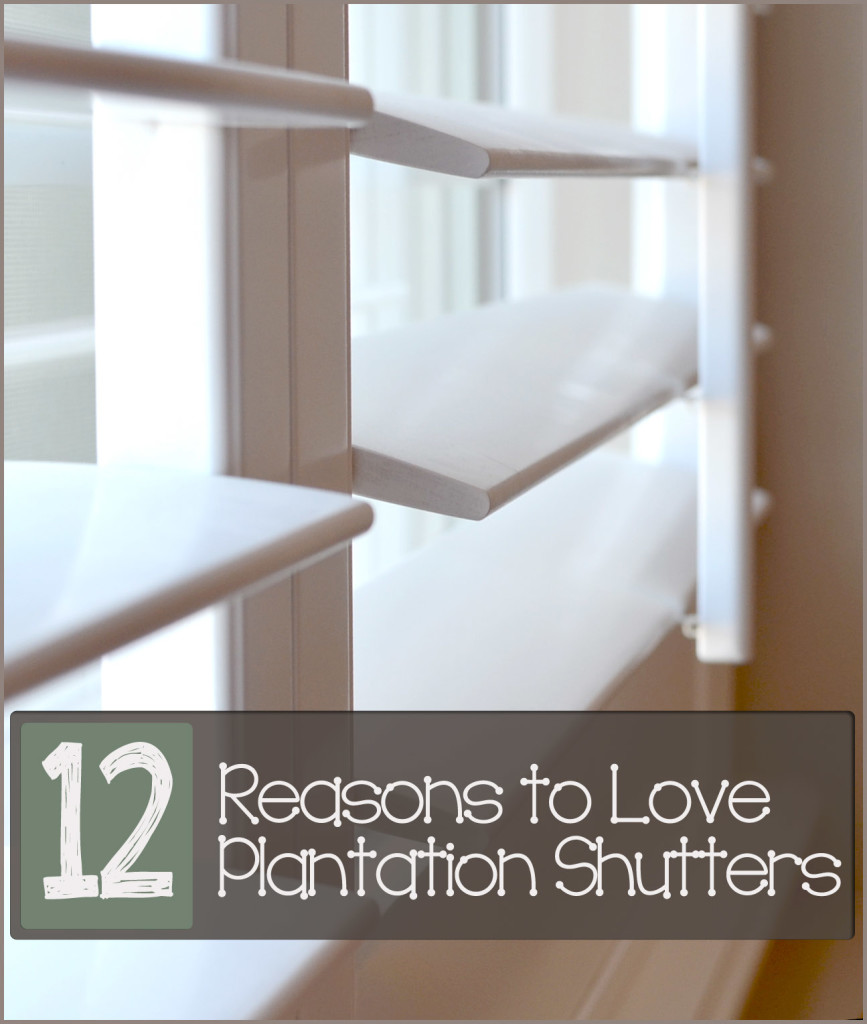 I have said before, that some things I can DIY and make cheap things into amazing things, and some things I just have to bite the bullet and pay for it. They are 'spensive! For me, they are even worth the price if you have to save up for a year to get them.
Here are 12 reasons that I El. Oh. Vee. Ee. my plantation shutters.
Light! They let in more light than other window coverings, because the slats are wide. And if you open them up, they let all the light possible in!
Dark! My babies sleep so well during the day because if they are closed, their rooms get really dark. These are great for naps!
No cords or strings to tangle! Yay!
No lopsided blinds- Hooray!
Windows look dressed, even if you don't have window treatments- I am still working on some window treatments, but I have some that I won't do anything with and they still look great!
Energy efficiency! They keep out the heat/cold. If you keep them shut (which I seldom do) they keep a lot of the hot or cold out, only decreasing your utility bills
Shutters increase your home value
They don't warp or bend (as long as you don't get the heavy ones!)
When the windows are open, the wind doesn't blow blinds all over the place
They look really fancy from the outside and dress your home up
Nice clean trim around the windows
And how could I forget- They are SOOO easy to clean!
The Cons to Plantation Shutters:
Expense- I will tell you that it cost about $4,000 for 12 windows (4 of those are double windows and that includes install.) Yikes. I almost had to sell a kid. They are more than double the price of a nice set of blinds.
You leave them when you move! These are built in, and you leave them if you move. It is a big expense for a home, if it is temporary.
I am not in love with the ones that are made for glass doors- they are big and bulky and we are trying to find a different solution for that area.
Ok- that list is a bit lopsided. So, I guess you know how I feel about plantation shutters! For me, they are worth the long term investment and the expense. We planned when we bought the house for a "shutter fund" and we made sacrifices in other areas to make it happen. And both my husband and I have mentioned a million times that it was well worth it.
I am going to add a really fabulous picture of my plantation shutters as soon as our office makeover is complete! I can't take a picture because we have a quarter inch of sheet rock dust on everything, and more sanding to do tonight! I will post an updated picture in a week.