Patriotic parties are one of the best parts of summer. They mean getting together with friends & family, eating delicious food, playing fun games, and decorating in red, white, and blue! I mean there's nothing better! I've found some awesome ideas for your next patriotic party, from treats to games to decorations. Hopefully you find a project that will work for your next patriotic party!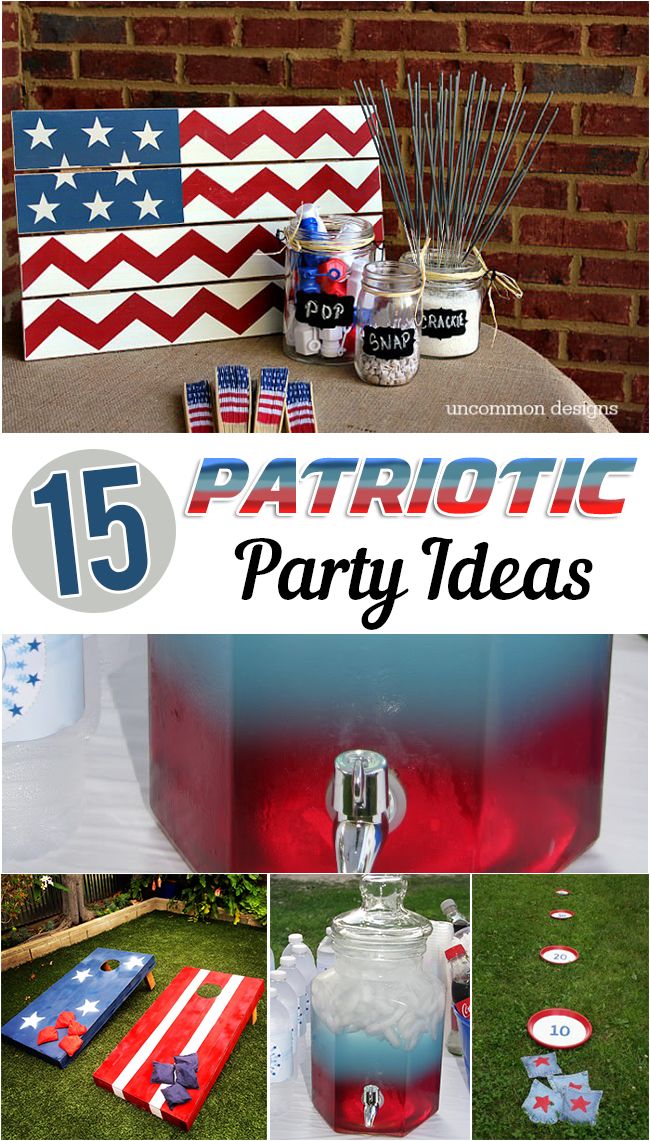 Uncommon Designs suggests setting up a fun and games station where you can organize poppers, firecrackers, and sparklers. You can put the items in cute mason jars with chalkboard labels so that finding what you need is simple!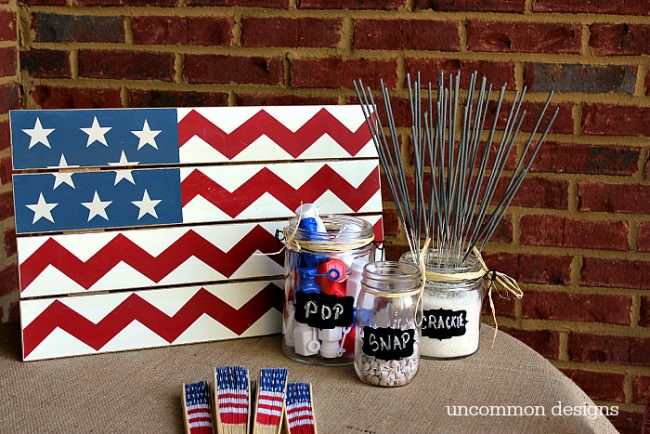 Carla Schauer Designs arranged this candy display that is perfect for any patriotic party. All you need are some glass containers of different sizes and candy in red, white, and blue. So easy, & so cute!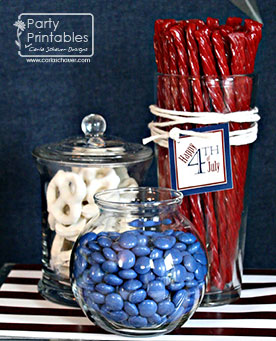 Chica and Jo came up with this cute bean bag toss that would be great for a Fourth of July gathering. The bean bags are made out of denim pockets which is so cute! Your kids will love playing this adorable game.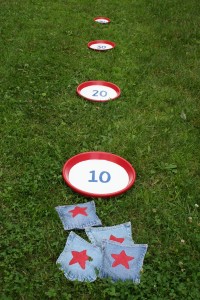 TurtlesRUs on Etsy sells tablecloths that are perfect for patriotic parties. And you could easily replicate one for your home. All you need to do is sew red, white, and blue bandanas together. And this decoration is totally re-useable!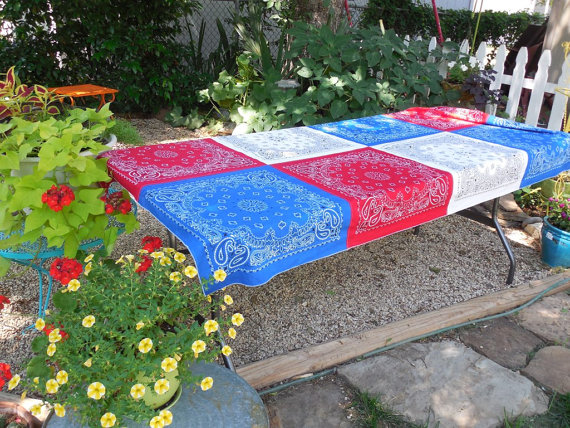 Roots & Wings Co made a cute bowling game for the Fourth of July that's easy to put together and lots of fun for kids! All you need are bottles, balls, and a cute American flag mat. I'm definitely making this one soon!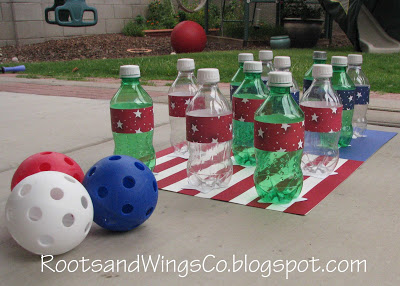 Charles & Hudson posted instructions for making this super patriotic bean bag toss. This is a great activity for all ages, and with this special paint job it's perfect for the Fourth of July. Guess it's time to freshen up on my woodworking skills!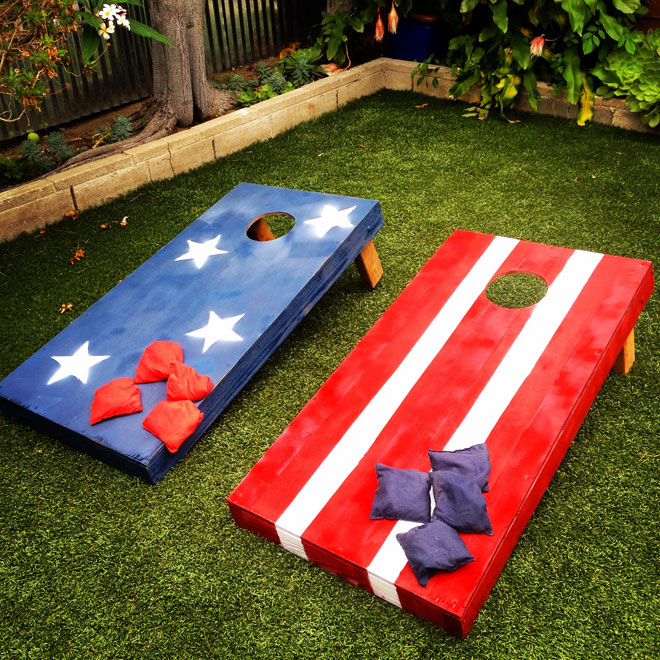 I love these patriotic mason jar lights from For the Love of. These are simple to make with some crepe paper, jars, and candles, and they would be a lovely way to decorate for a party. Lights always add a nice glow to evening affairs.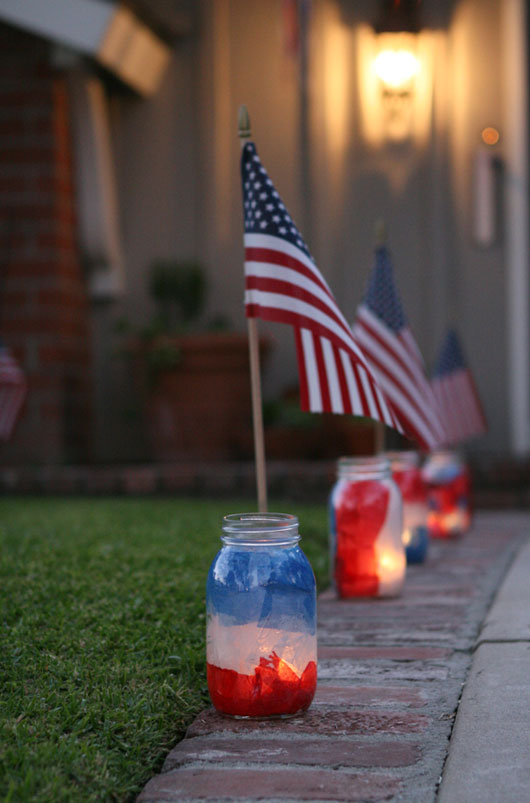 Create & Babble posted instructions for sewing lovely patriotic bunting. Hanging a bunch of bunting from a white house is like the ultimate patriotic decor. Making bunting may take a bit of time, but you'll be able to use it year after year.
Bright Nest turned ordinary mason jars into cute & patriotic utensil holders. With a little bit of paint you can make these patriotic jars as well. And you don't have to fill them with knives & forks–you could fill them with flowers, candles, or anything else!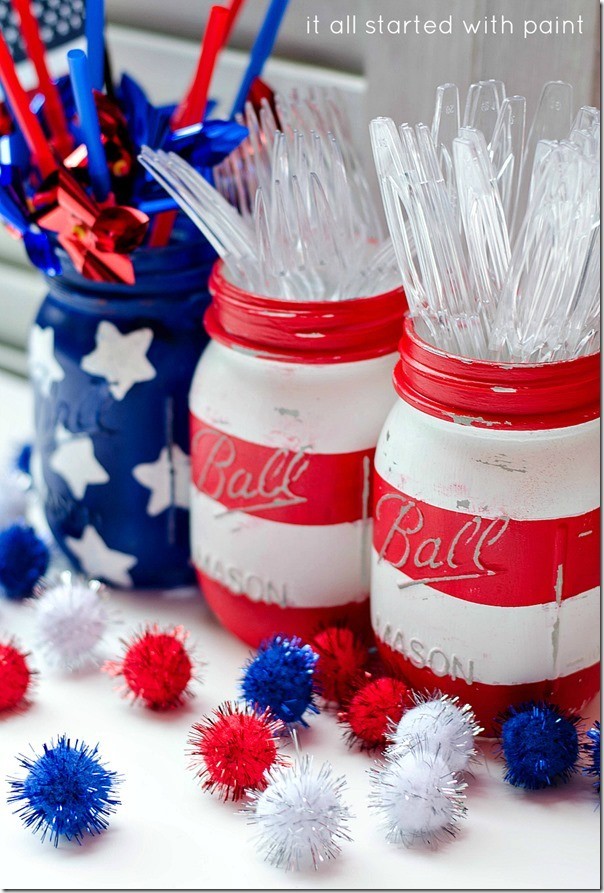 Chica Circle made an awesome patriotic water blob for her kids to hang out on during the Fourth of July. Water blobs are pretty simple to make, but they get tons of mileage–especially if it's hot. And this one is perfect for your patriotic party!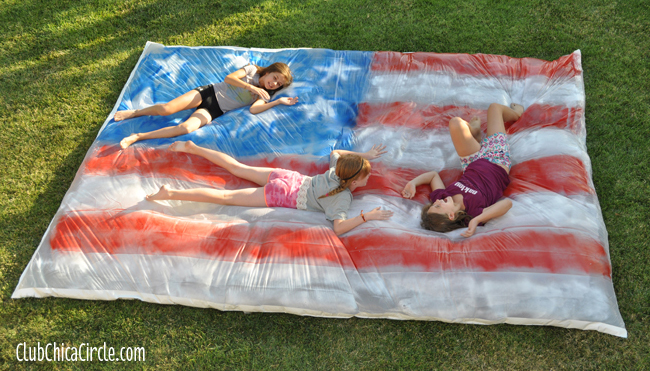 I love the way this drink from Big Bear's Wife looks, and I bet it tastes amazing too. The recipe includes cranberry juice, blue Gatorade, and 7-Up, so it's probably the best drink ever. The best part is that it goes with the patriotic theme so perfectly!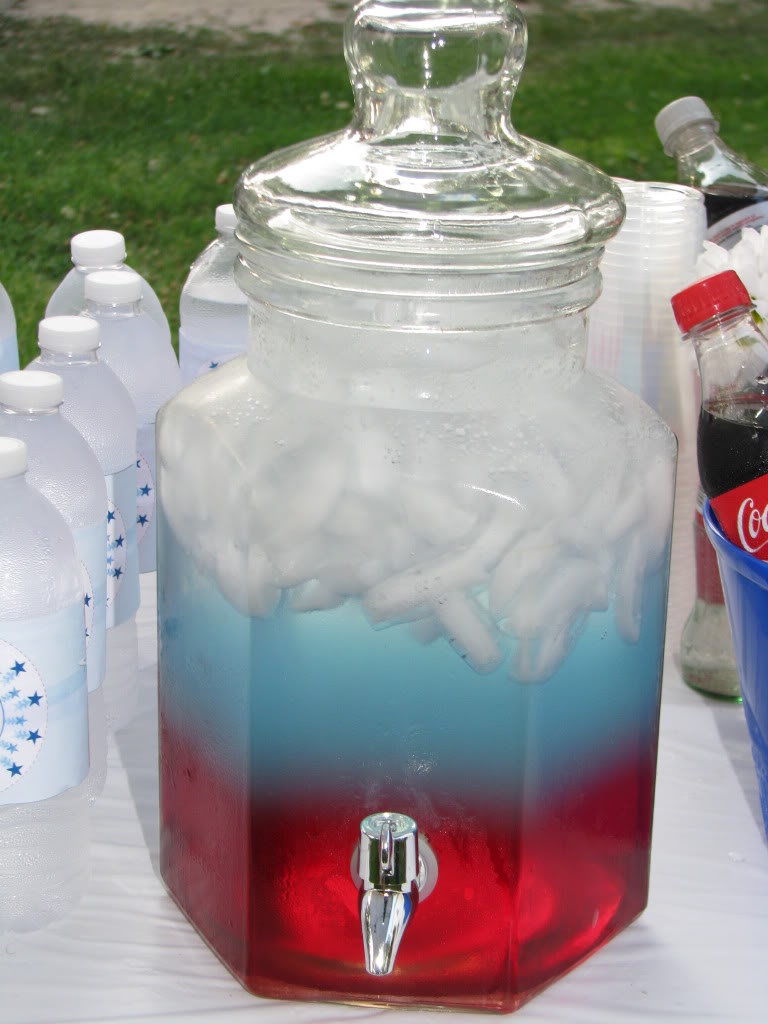 Two Shades of Pink made sippy cup mason jars that are exactly what you need for a patriotic celebration. If you've got a bunch of red, white, & blue craft paper hanging around, you should put it on mason jars so that your party drinks can be this cute!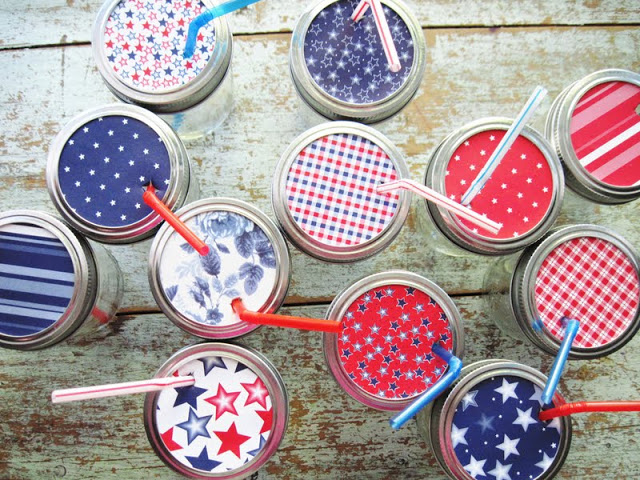 Better Homes & Gardens suggests wrapping a bunch of water bottles in American flags. This is a super easy way to add an extra bit of patriotism to your party decor. It's a functional way to decorate that's super adorable!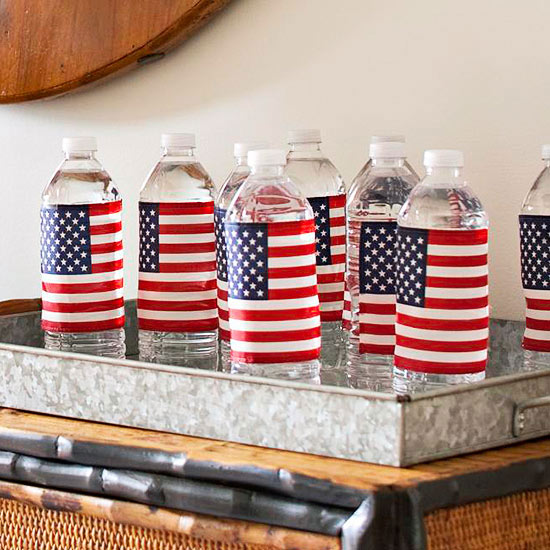 Style Me Pretty posted this gorgeous patio lighting with red, white, & blue streamers that would be absolutely amazing at a patriotic party. In fact, it's so beautiful you may not ever want to take it down!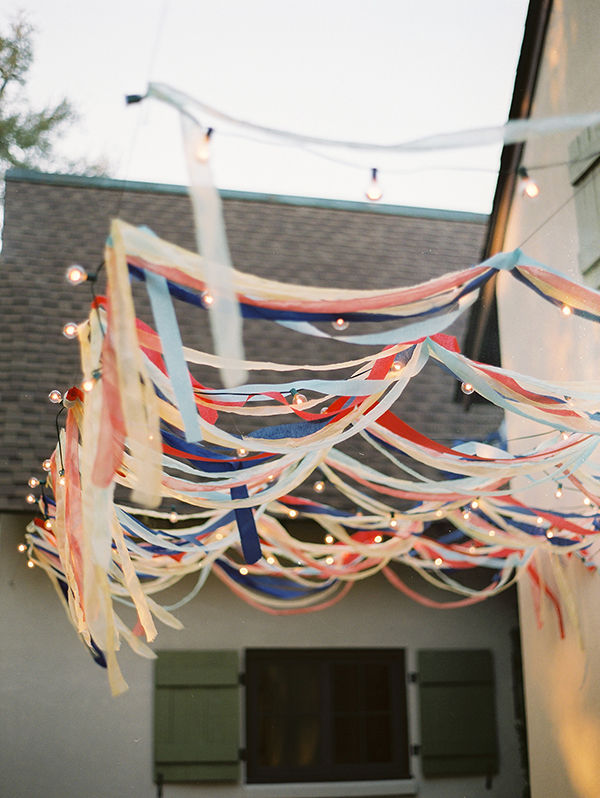 Better Homes & Gardens decorated for the Fourth of July with blue glass vases and cups filled with red flowers. This is a great way to go if you don't have a ton of time to decorate. Just find things that are red, white, or blue in your house and get creative!