Camping is one of my favorite parts about summer, but I will admit, it can sometimes be stressful, especially with small children or large groups. Here are some ideas to help your next camping trip run smoother (and taste more delicious!):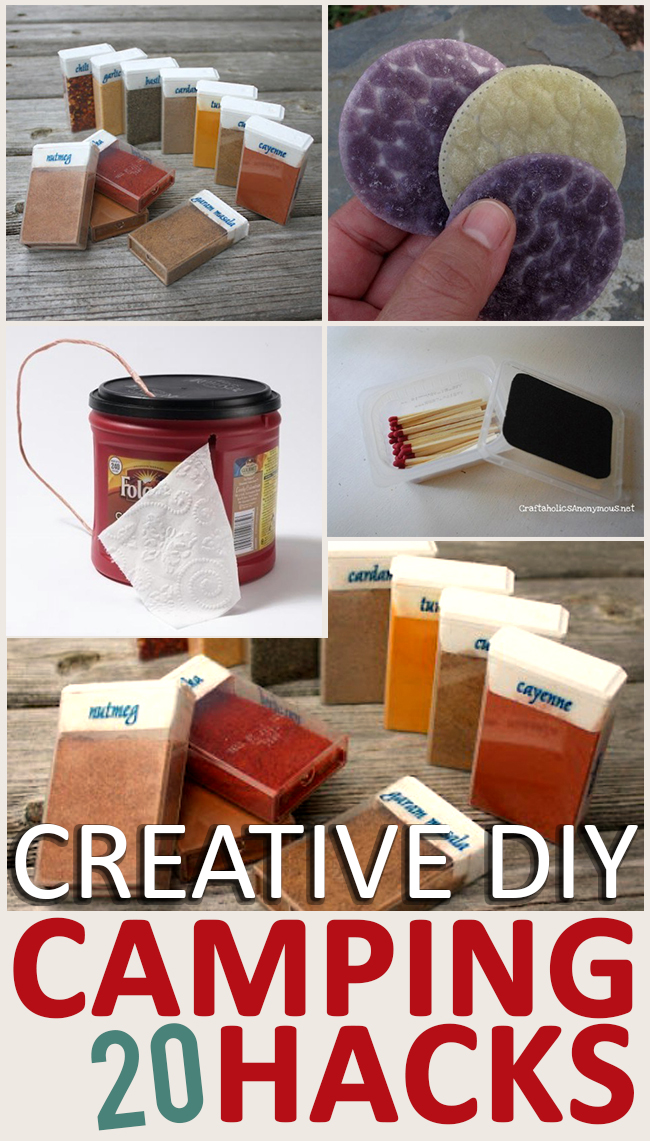 Hand-washing station: Set up a jug of hand-washing water and mount a paper towel roll holder on top of the jug using bungee cord hooks wrapped around the jug and hooked at the top. No more misplacing the paper towels or dropping them in the dirt!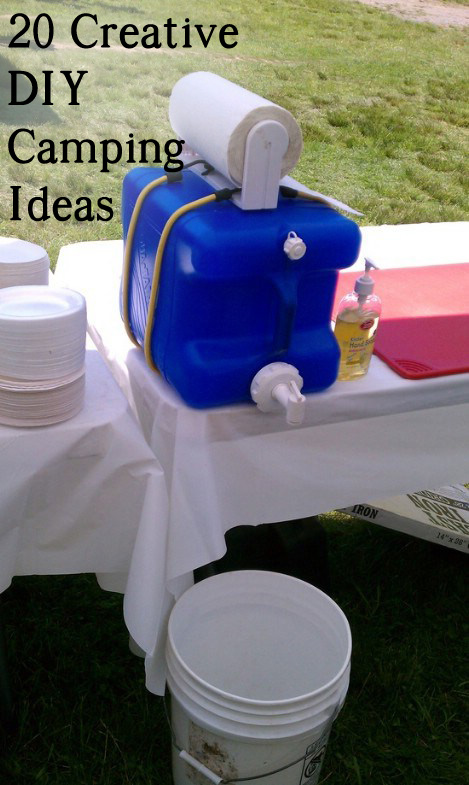 Toilet paper dispenser: Use an old coffee can or other plastic container as a toilet paper dispenser. Make a slit in the container to pull the toilet paper from. Make a handle out of bailing twine or something like it.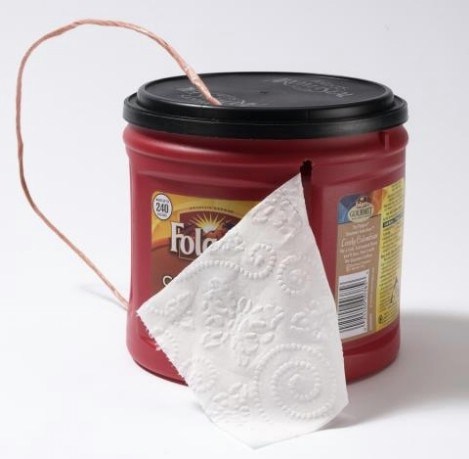 Save the matches! Use an old baby food container or other plastic, water proof container to keep your matches in. Glue a patch of sandpaper to the inside of the container to strike your matches on.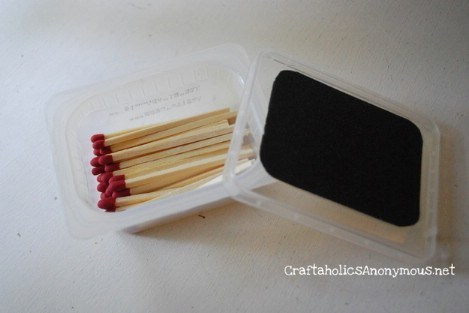 Spice storage: Save empty tic-tac containers and use them to store spices while you camp. They're a good size for camping, and easy to label and see what's inside.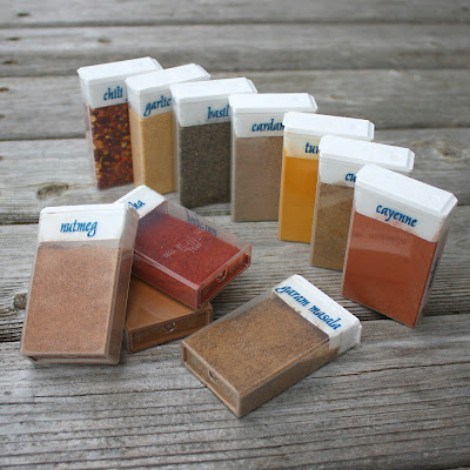 Hang your pots and pans: Wrap a belt around a tree and attach some plain, cheap metal hooks to the belt. Hang your pots there to let them dry and keep the picnic table uncluttered.
Campfire cones: These look super yummy! Wrap a waffle cone in tin foil and stuff it with fruit, chocolate chips, marshmallows, and anything else you can think of. Fold the foil over the top and cook for 5-7 minutes over hot coals. http://kidsactivitiesblog.com/11527/camp-fire-food
Campfire starters: Before you head for the mountains, dip some circular cotton pads in wax and let dry. Take a pack of them along with you for compact and easy fire-starters.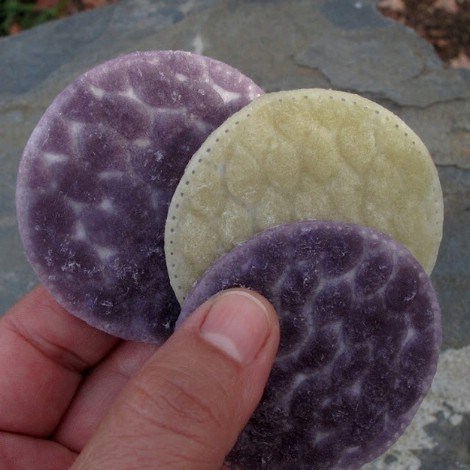 Mini oil lamps: Make mini oil lamps out of travel-size toiletry containers. Cute and convenient! http://www.instructables.com/id/Pocket-Size-Oil-Lamp/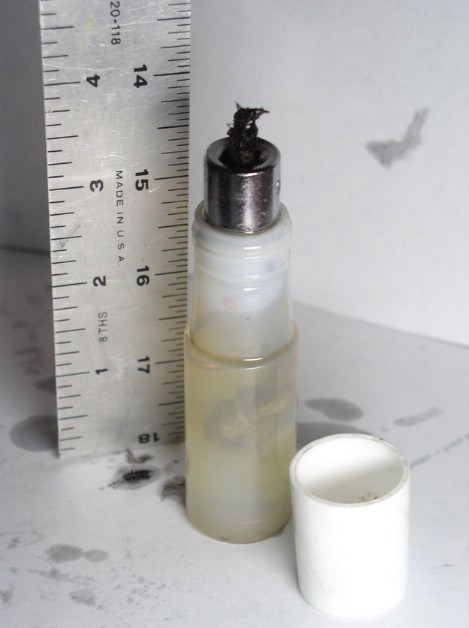 Keep the bugs away: If you burn a bundle of sage with your campfire, it will repel mosquitos and other bugs.
Water jug lamp: To light your whole tent, simply strap a head lamp to a gallon jug of water, turning the light in toward the jug.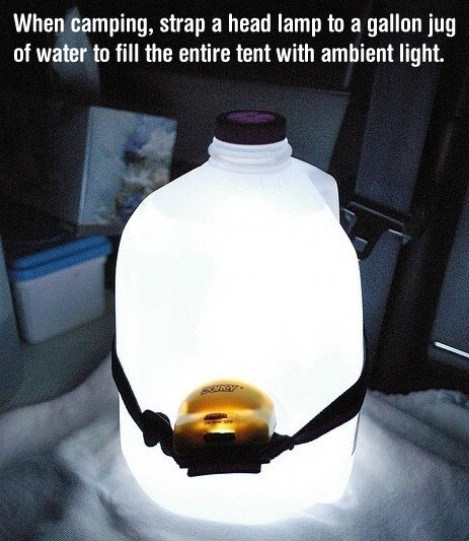 Anti-tick solution: I think ticks are one of nature's creepiest creations. Here's a natural solution you can spray in your shoes, socks, and pant cuffs to keep the nasties away: 1 part tea tree oil to 2 parts water.
Wood stove top: Create a natural stove top by cutting a log sitting vertically into triangle sections (like a pizza), but don't cut all the way down. You want the log to stay put together. Light the middle of the log and it creates a place to heat your pot or pan.
Protect your clothes for packing: When packing up your dirty shoes after some fun in the outdoors, wrap them in a shower cap or plastic bag to keep them from getting mud all over your clothes.
Foil dinners: Don't foil your dinner–make foil dinners! One of the best parts of camping, in my opinion. It's amazing how many things you can cook over a fire in foil.
Orange cakes: Make a personal-size chocolate cake or brownie using a gutted orange and cook over the fire. Looks fun to make and delicious to eat! http://www.ljcfyi.com/2010/07/campfire-orange-cakes.htm
Want even more camping hacks? Try  this list of camping hacks from howtobuildit.org.