There are some amazing and creative things you can make with leftover wine corks, so hold on to those! If you're not a drinker, or you want to lessen the time it takes to save up used corks, you can easily acquire a bunch of wine corks for craft projects from Amazon. 50 premium wine corks will only set you back about $12.
1. For an easy project with big appeal, cover a plain letter in wine corks. You'll need some hot glue to attach the corks to the letter, and you'll want to be sure that your corks are all similar in length and width for best results.
2. Wine corks make an excellent trivet for a hot pot, and this is only one way you can configure it. See Lush Home for more ideas.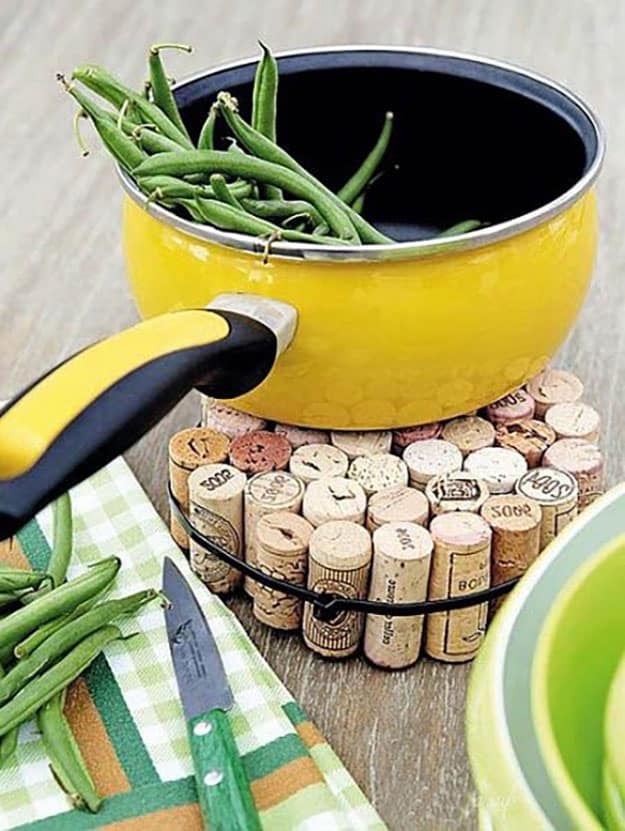 3. Yes, you can actually make a cork bathmat out of wine corks, and it does seem to hold up well with no sealing. Check out Crafty Nest's post and tutorial on cork bathmats.
4. Show your home state pride by making state shaped wall art with wine corks. Brit + Co shows you how easy it is to make your own.
5. Turn your corks into candles! Soak corks in acetone alcohol in a mason jar with a tight fitting lid, for one week. After that, you can light them up!
6. How adorable are these little cheese knives made with wine cork handles? Love them!
7. You can turn your corks into some adorable little stamps, simply by carving your desired design into one end.
8. Use a fancy frame and wine corks to make a corkboard that is a definite step up from those you can purchase from the store.
9. Does this wine cork backsplash interest you? See how it's done at Create Craft Love.
10. Now this might just be the cutest thing you could do with wine corks. They make perfect little miniature planters for succulents! And they're magnetic, too.
11. Here's a cute craft for the kids: wine cork sailboats, complete with sparkly sails.
12. Save those corks with special meaning. This idea comes from Something Turquoise.
13. Fashion some handy napkin rings with wine corks, beads, and a mandrel.
14. Wine corks make an awesome placemat or even a table runner.
15. A cork keychain is unique and easy to make.
16. A perfect craft for the gardener, wine corks convert easily into plant markers.
17. On second thought, these little critters might be the cutest things you can make with wine corks!
18. This craft is perfect for a bird lover: wine cork birdhouses. Adorable!
19. In another method of preserving memories, A Beautiful Mess suggests writing the date and what you were doing or celebrating on your used wine corks. Display them in a clear glass vase.
20. Turn wine corks into dresser drawer knobs. See how at Dollar Store Crafts.
21. Over at Pink When, see how to make DIY wine cork coasters.
22. If you're patient enough, you can string wine corks and make curtains out of them. It's certainly a unique way to use them!