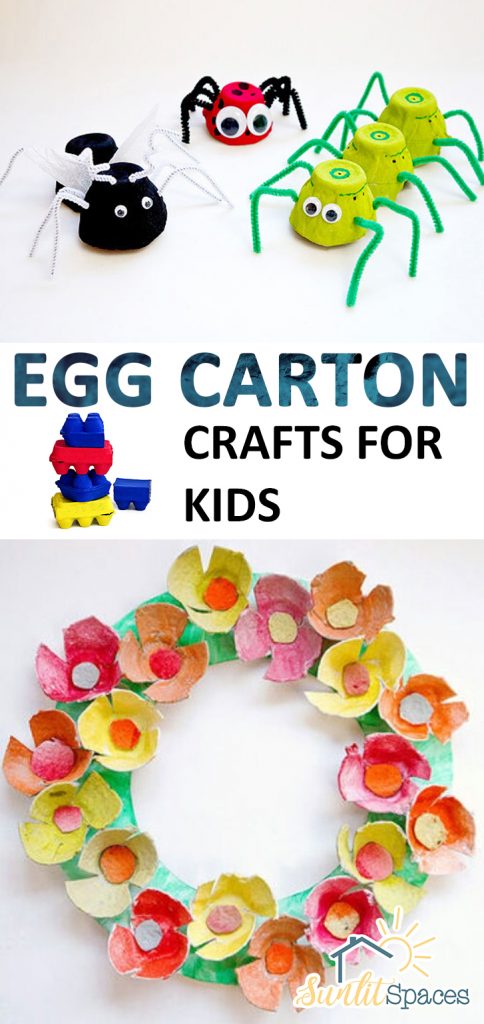 Cardboard egg cartons have great crafting potential, especially for kids! If you are always on the lookout for great kids' craft ideas or rainy day fun, look no further. Check out these cute egg carton craft ideas from Parents–and then hang onto those egg cartons!
Here are a few more of my favorite crafts for kids:
One egg carton, some non-toxic paints, pipe cleaners and pompoms (find your craft supplies at Michaels!)  make a lovely egg carton bouquet for Mom or Grandma. The littles might need help cutting apart the egg carton and gluing in the pompom centers, but this is a pretty easy and fun craft for an afternoon.
These homemade bugs are the most adorable bugs I've ever seen. One egg carton will make several specimens like this caterpillar, ladybug and spider. Glue googly eyes on the bugs for the perfect finishing touch.
Take the flower bouquet idea to the next level. Just recycle two egg cartons into a floral wreath. You'll also need scrap paper, glue and ribbon to hang it with.
If homemade musical instruments are appealing, try converting the egg carton into musical shakers. You'll need two cups of the carton for each shaker, painted as desired. Fill the cups with rice, and then help the kids to glue them shut with a hot glue gun.
Don't these creations look just like giant Legos? Cut two egg cartons into different sizes, and paint them with tempura paint in bright colors.