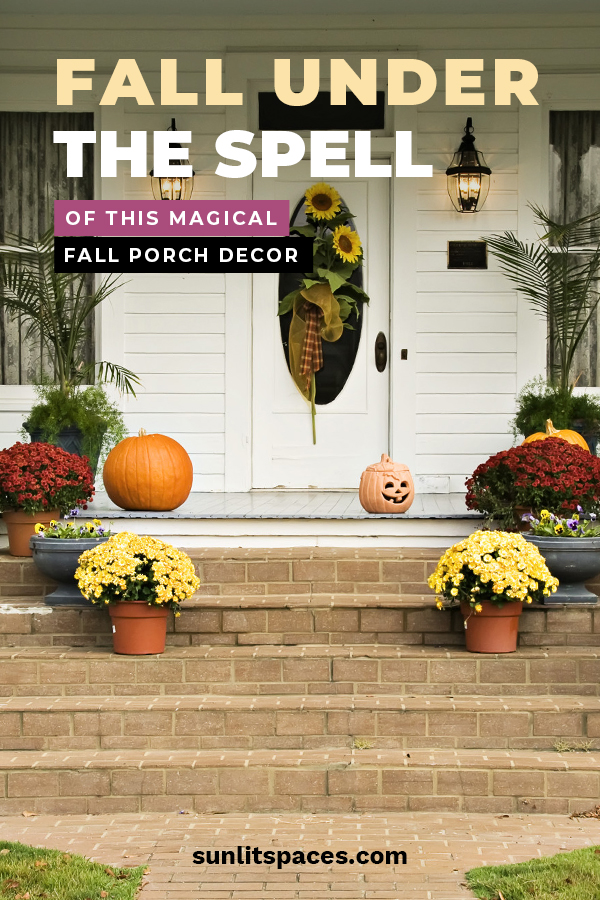 It's time to decide how to welcome visitors for the Fall season with your fall porch decor! To help you, I've got some inspiration to get your creative juices flowing. Check out the following magical fall porch decor ideas.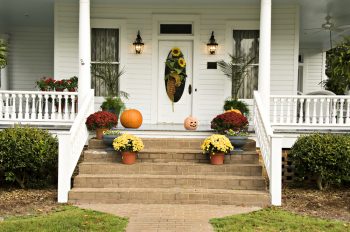 Here's an example of what you can do with a wide farmhouse porch. A bouquet of sunflowers graces the front door. The door is flanked by tall greenery. From the approach to the porch, draw the eye upwards and right to the front door with strategically placed mums in classic fall colors. You can complete the look by adding a few pumpkins to your porch.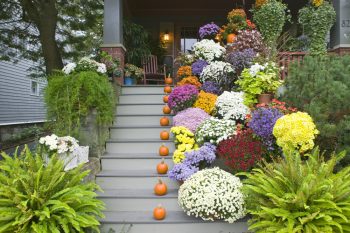 This simply stunning front staircase is highlighted beautifully with an assortment of mums in all the brightest colors. Several lime-green plants are also added to the mix. That bright green color really adds a touch of magic! The tiny pumpkins placed on each step are the finishing touch to this beautiful fall porch.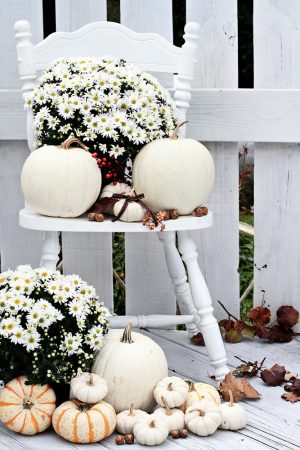 Don't let anyone tell you that white pumpkins and mums don't scream fall! I think this fall porch decor idea is really elegant. It's perfect for a farmhouse porch!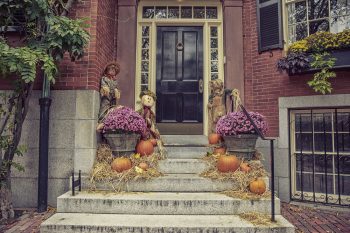 If purple mums are your favorite, don't be afraid to use them. The combination of purple mums and orange pumpkins on a bed of hay looks magical against the color palette of this home. The scarecrows are a fun touch!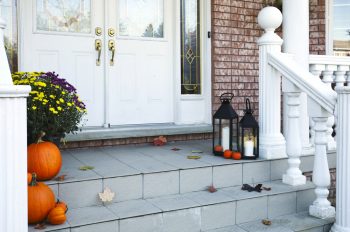 This fall porch proves that less can be more. You don't have to feel like you need a truckload of elements for fall porch décor. Just a few simple touches like a pot of mums, a few pumpkins, and a couple of lanterns can be enough.
If you are a sucker for the vivid colors of autumn leaves, then by all means, use them in your fall porch decor. This welcoming entry shows that you don't have to use autumn leaves in just a wreath or a garland. Fill a lantern with them, or display them right on the door.
Have you planned out your fall porch decor yet? Good luck and happy decorating!