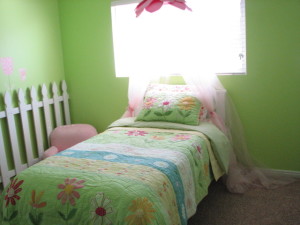 3 years ago, my daughter and husband were out of town for a week visiting family and I decided to surprise them both with a much needed room makeover for my little girl. I had 4 days to do it, and I was on my own, completely.
Here is her pathetic room before: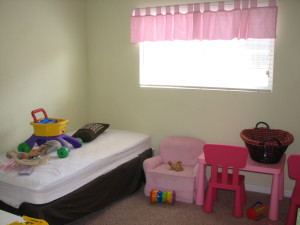 (She had bedding, I took the picture after I started on the project.)
We had just moved into a rental and were looking to buy a home. The Process was taking waaay longer than we expected. So I decided that even though it was temporary, I wanted her to have a happy place to call her own. I loved the garden theme, because it is cute for a little girl, but they can grow into it too.
My to-do list:
buy a bed
bedding
paint
picket fence-paint and sand
new dresser
drawer pulls for the dresser
hooks (backpack and coat)
canopy
tulip vinyl stickers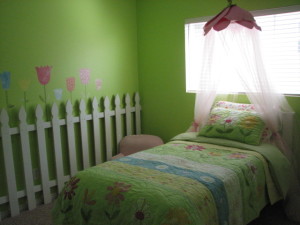 This was not the most "on the cheap" project I have done, but I was in a hurry, so I had less DIY options. I did everything myself (that I could). I did not hand craft a bed frame, or quilt the bedspread, but I did everything else.
I bought the bedding that I designed the room around. I love this bedding from Pottery Barn. It is sooo cute. I also bought the tulip wall decals from Pottery Barn that I am in love with. The bedspread has daisies, but I liked the tulip wall decals so much better than the daisies. Seems like you would have both in a garden, right? I liked the decals so much that I just bought another set. They are discontinued and I could only find one set left on the entire world wide web.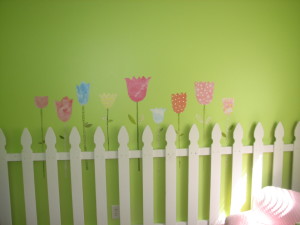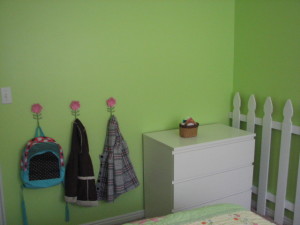 I bought a cute pink lamp, and pink flower drawer pulls from Anthropologie and it was done! I have no idea where the pictures are of the finished product, but these are close.
Now that we are in our new house, I want to put her room back together almost the way that it was. But I think I am going to paint just one wall, and I want to do a really light sky blue and add the picket fence with the *new* tulip decals. I think I want something a little more soothing this time.
I will post pictures of the new wall as soon as it is ready.