The DIY industry has become so robust that there is almost nothing you can't fix up or restore.  Replacing old outdated tile used to be the only way to change the look in your bathroom, or give your tub a face-lift   This is a really great Band-Aid or an inexpensive temporary (or even semi-permanent) fix.  This technique would be perfect if you plan to re-do your bathroom at some point, but don't have the money or time now and you want to make it tolerable until then.  Paint your tile.  Best idea ever.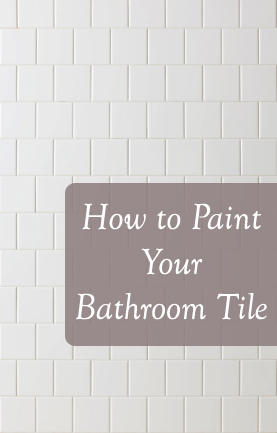 If you are up for the task, you can makeover any bathroom, even with a small budget!
When I start a project, I always ask myself "what is the worst that could happen?"  I usually do said project if worst case scenario doesn't result in death or dismemberment, but other people may have a different "worst case" set point.  For all of you "risk managers" out there, I outlined the pros and cons to help in your decision 🙂
Pros
Extend the life of your tile
Update the look
Inexpensive
Get the color you want
Cons
Your grout will also be painted (no contrast)
Extensive cleaning in prep work
Paint can peel over time
Here is what you need:
Tile Painting Kit
Tile cleaner (use a commercial grade)
Protective gear (mask gloves, etc)
Tape
ArmorPoxy sells a kit that pretty much includes everything you need to paint your tile.  It is 99$ for 75 sq feet, and it includes the cleaner, 2 part epoxy coating, application brush, sprayer, gloves and it even comes with a mixing stick.  This kit only comes in white.
Steps:
Clean the surfaces of the tile very good and dry them with a clean dry cloth
Tape off the area that you are painting
If using a 2 part epoxy, mix the 2 cans together with a mixing stick
Let it cure for 4-6 hours before applying the 2nd coat.
Apply the 2nd coat of epoxy
Now, each product will have their specific instructions, and they may differ a bit.  There are a few different products out there.  I recommend the above product or Rustoleum Tile Transformations.  The Rustoleum Tile Transformations product is not supposed to peel (ever.)  This product comes in a natural stone finish, if you don't like the bright white of the other product.
I am kind of a sucker for nice white finishes, but the natural stone one is really nice!  Because your grout will be the same color, pick a color that is classic and looks really nice being monochromatic.  Good luck with your tile makeover!  Let me know how it goes!  I would love to hear from you.