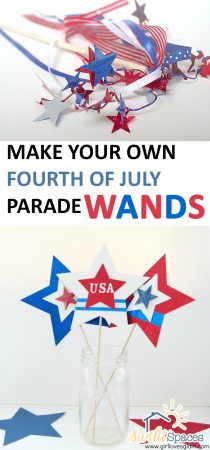 This Fourth of July, be ready for all of the hometown parade fun by making your own parade wands. It's an easy project that's patriotic fun for adults and kids. Kids especially love to have a wand to wave at the parade!
The first example uses a wooden dowel from 1/4-1/2″ in diameter, some metal screw eyes, and assorted ribbon. Just screw an eye into one end of your dowel and thread through several lengths of the ribbon until they are tight. If desired, you can pre-paint the dowel to match your choice of ribbons.
These adorable wands are similar to the ribbon wand above, but include some stars made from adhesive craft foam.
Glitter paper, stickers and wooden skewers are the basis for these patriotic parade wands from Girl Loves Glam.
Make a wand like the first one, but add in some star garland from your local dollar store for a bit of extra fun and sparkle!
How about firecracker parade wands from The Many Little Joys? The kids will love these!
Glittery star wands are made with Styrofoam stars, and glittery wands made with a dowel, glitter and Mod Podge. Attach shredded metallic ribbon for the finishing touch. Spectacular!
Use patriotic washi tape to decorate the dowel of a plain ribbon wand. If you don't want to paint your dowel, this is the perfect solution.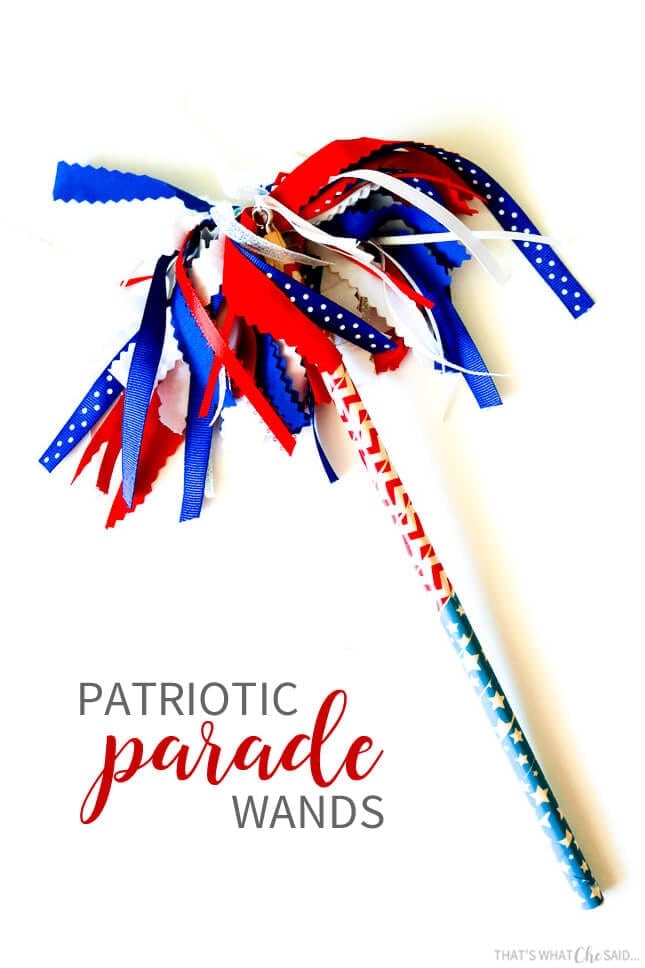 Let the kids paint their own foam board stars for these Fourth of July parade wands, then attach the stars and ribbon to wooden skewers.