Chalk paint is extremely easy to work with, and it brings out a velvety finish to your project. There are options available in the market where you can purchase store-bought chalk paint. However, what if you don't want to spend a ton of money on paint? What if you want to know how to make chalk paint on your own? Well, this is where we step in.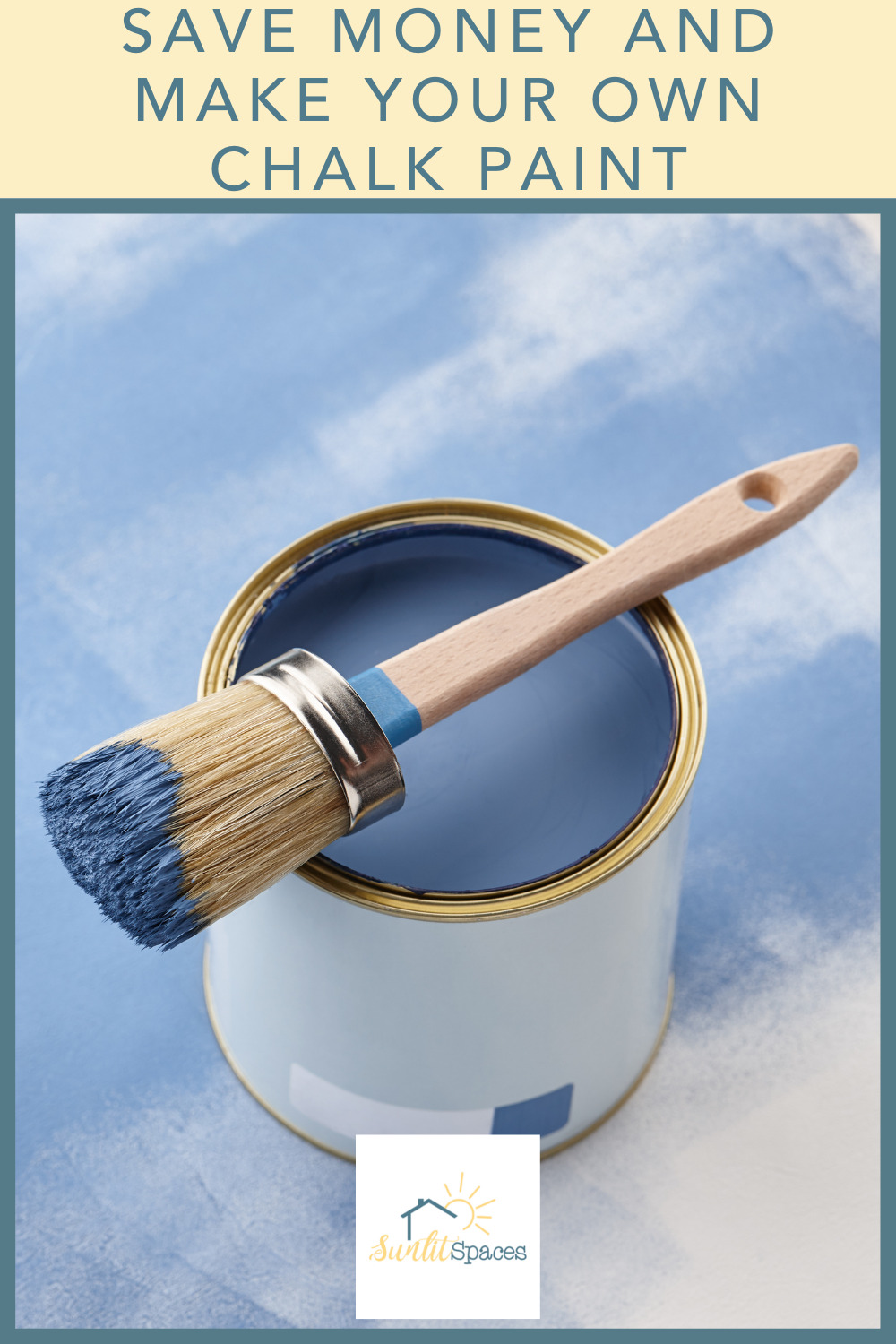 Chalk paint brings out a beautiful finish to ordinary furniture pieces and will ensure that they become beautiful additions to your home. Let's take a look at how to make chalk paint at home.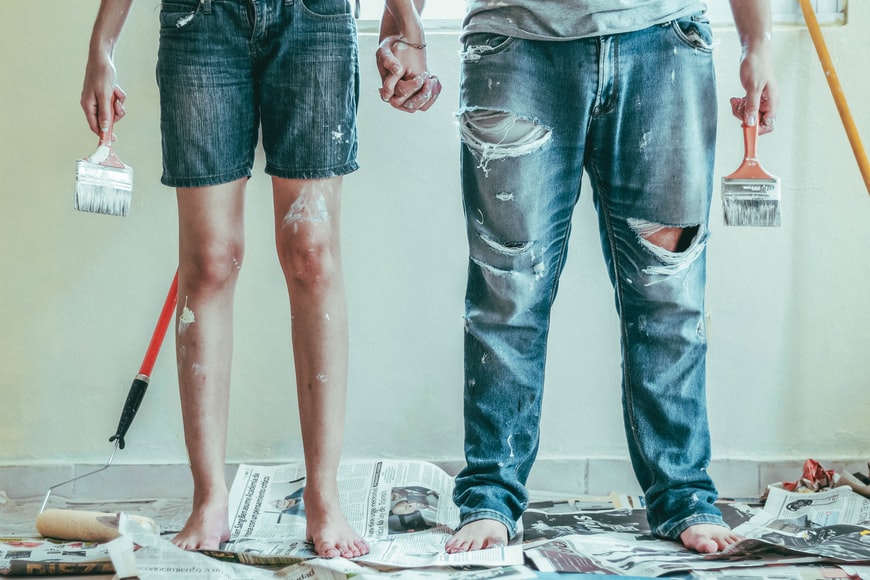 Why Make Chalk Paint at Home?
Lots of people question why they need to know how to make our chalk paint when there are ready-made options available. Here are the two main reasons why you should know how to make chalk paint:
If you know how to make chalk paint at home, you will be saving a lot of money. When making chalk paint at home, you can control the quantity of paint required for your project. This saves you from spending extra money on store-bought quart-sized paint which you might not use later.
Knowing how to make your own chalk paint will allow you to create any colored paint of your choice. Ready-made chalk paint comes with a limited color selection. When making your own, you can go for any color you want with no limitations.
How to Make Chalk Paint at Home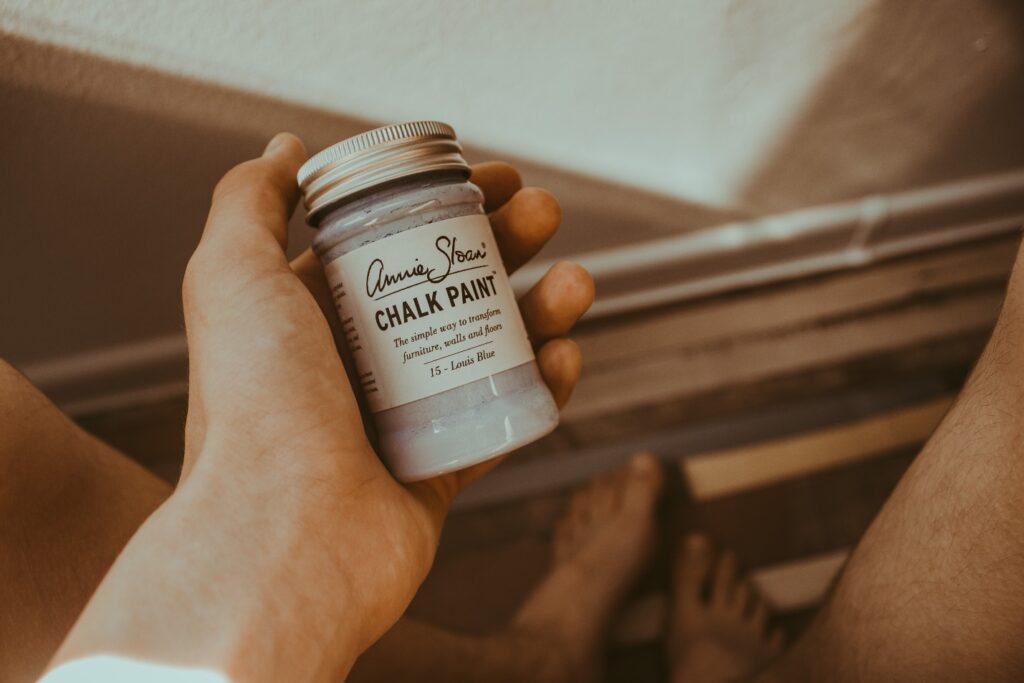 DIY chalk paint is made using latex paint with a secret ingredient that is the binding powder. The binding powder hardens the paint as it dries. This is what gives the smooth and lasting durability of chalk paint.
Some of the commonly used binding powders are calcium carbonate powder, plaster of Paris, and chalk powder that is used as a drywall compound.
You can get your hands on these ingredients at the Home Depot store or shop them online. 
You can also use other ingredients, such as baking soda and non-sanded grout, to make chalk paint. However, compared to calcium carbonate powder, the finish isn't as velvety and durable.
The binding powders are white and have to be mixed well with the latex paint.
You can either stir the binding agent into the paint or use a hand-held mixer to make the process tell tiring.
What Type of Paint Should Be Used to Make Chalk Paint?
Using latex paint is the best base to use when making chalk paint. Try to pick your base paint in a flat or eggshell finish.
When it comes to DIY paint projects, lots of people opt for using wax to seal the finish. To get a waxed finish on your furniture piece, make sure the final layer of paint is flat, so it's easier for the wax to absorb into the paint and create a sealing barrier.
Keep in mind that the binding powder will most likely lighten the color of the paint. We recommend getting a shade darker than the color you want on your project.
The Best Chalk Paint Recipe for Your Furniture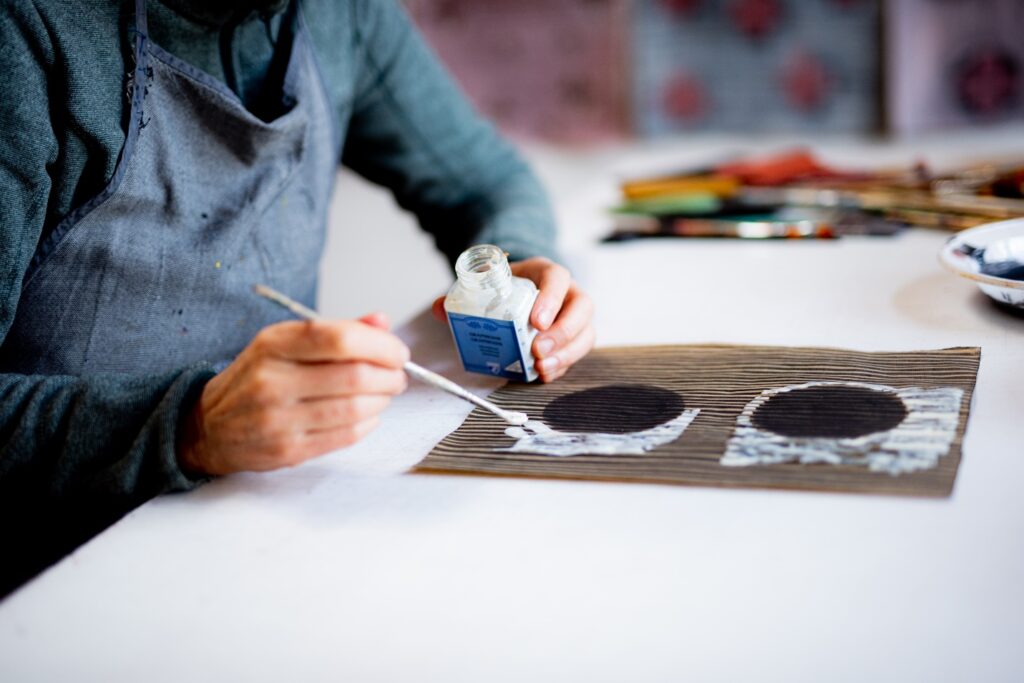 You'll be happy to know that if you're wondering how to make your own chalk paint, there are several different ways to do so. Regardless of the type of recipe you use, you will be satisfied with the results.
· Calcium Carbonate Powder Chalk Paint
The best type of binding powder you can use to make chalk paint is calcium carbonate powder. It is an odorless, fine, and non-toxic powder.
We recommend getting your hands on the health food grade powder as it is super fine and extremely easy to mix. 
Things you need:
Mixing bowl
Spoon
1 cup latex paint
2 tablespoons calcium carbonate powder
1 tablespoon warm water
Directions:
Grab a mixing bowl and combine the calcium carbonate powder with warm water. Stir it well till you get a smooth, batter-like consistency. If it looks too thick, add a little more water and mix well, making sure the powder is fully dissolved in the water.
Take the calcium carbonate solution and pour it into your latex paint and stir well to combine.
If you're using a quart of paint and wish to convert it into chalk paint, take 8 tablespoons of calcium carbonate powder and dissolve it in 4 tablespoons of water. Once the calcium carbonate solution is mixed well, pour it into the quart tin and mix it.
Pros of Using Calcium Carbonate Powder
DIY enthusiasts prefer using calcium carbonate powder to make their chalk paint because it mixes up into a smooth consistency, and any leftover paint can be sealed and put away for use later.
The calcium carbonate helps create a smooth and velvety finish which can be used in paint sprayers. 
· Plaster of Paris Chalk Paint
Plaster of Paris is another type of binding powder that dries out the paint quickly. Since most furniture pieces require 2 to 3 coats of paint, using plaster of Paris might make you run out of paint faster.
For a more durable and sustainable finish, we recommend adding equal parts of calcium carbonate to the plaster of Paris mixture.
Things you need:
2 cups latex paint
Two tablespoons calcium carbonate powder
2 tablespoons plaster of Paris
2-3 tablespoons of warm water
Directions:
Mix both powders together with water till you reach a batter-like runny consistency.
When the powders have fully dissolved in water, pour the solution in 2 cups of latex paint and mix to combine well.
Using plaster of Paris along with calcium carbonate powder gives a hard finish to your furniture piece.
· Baking Soda Chalk Paint
Baking soda is another agent used as a binding powder that turns a glossy latex finish into smoothly textured chalk paint. The standard ratio for this recipe is one part paint and half part baking soda with a bit of water to dilute the agent.
Things you need:
1 cup latex paint
1/2 cup baking soda
3 tablespoons cool water
Directions:
Similar to the previous methods, dissolve the baking soda in water till it becomes a smooth paste. Add a few drops of water if the mixture looks too clumpy.
Transfer the soda mixture to the latex paint and combine well till the solution is completely mixed with the paint.
Using Chalk Paint in a Paint Sprayer
Paint sprayers have picked up popularity ever since they made painting furniture and walls ten times easier.
The convenience of a paint sprayer coupled with the quickness of the paint application process – we had to find out if we could use chalk paint in paint sprayers. It turns out, you can use it!
All you have to do is modify the recipes just a tad bit. Add more water to the binding powder, so the consistency is either as thin as or slightly thinner than regular latex paint.
Try to observe the consistency closely because the thicker the paint is going to be, the harder it is going to be to spray it onto your project.
Once you are finished spraying, clean the tool immediately as instructed in the user manual.
If you let the chalk paint sit in the sprayer, it may cause damage due to the plaster of Paris. Even though paint sprayers are a handy tool and work really well with most paint, we recommend sticking to a paintbrush for better results.
Pro-Tips for DIY Chalk Paint
Speaking from experience and several trials and errors, we believe it is important to share some pro-tips before you learn how to make chalk paint at home and start using it.
The number one rule of knowing how to make chalk paint is that you should never add the binding powder directly into the paint container. It will result in a lumpy mess and won't look flattering. Whenever you mix the powder, dissolve the agent in water properly before mixing it in with the paint.
Know when your furniture requires prior prep. If you notice paint chipping from the furniture piece you're about to work on, sand the surface properly before you begin painting. In case you are working with stained wooden furniture, if the piece is not sealed properly, you may notice chalk paint bleed.
Chalk paint bleed occurs when you can notice the stain and wood grains coming through the paint. To prevent paint bleed, use a stain-blocking primer before you add your layers of paint. Adding more coats to your piece will not help hide the wood stains and result in a lumpy finish. For the perfect velvety smooth finish, prime your furniture piece with a product that will hide the ugly paint bleed.
If you have paint left over, store the chalk paint in an airtight container. Keep it away from direct sunlight. The garage or the attic is a good place to store chalk paint.
If you're working with big furniture pieces, you can easily double or triple the recipes mentioned above. When adding the binding powder solution into the paint, try to pour small amounts in intervals to avoid getting big clumps. Using a high-quality wide paint brush will help with even coating.
To get a durable finish for the pieces that will be in recurring use, use wax to seal the paint. By using the recipe of calcium carbonate and plaster of Paris combination, you will get a more sturdy finish that will prevent wear and tear.
DIY Chalk Paint Furniture Ideas to Try
Working with chalk paint is a super-easy way to give your old, worn-out furniture pieces a brand new makeover. Spruce up the look of your bedroom, living room, or your balcony by adding a new coat of fresh chalk paint.
Here are different ideas for painting your furniture with chalk paint. Once you know how to make chalk paint, you will love these ideas!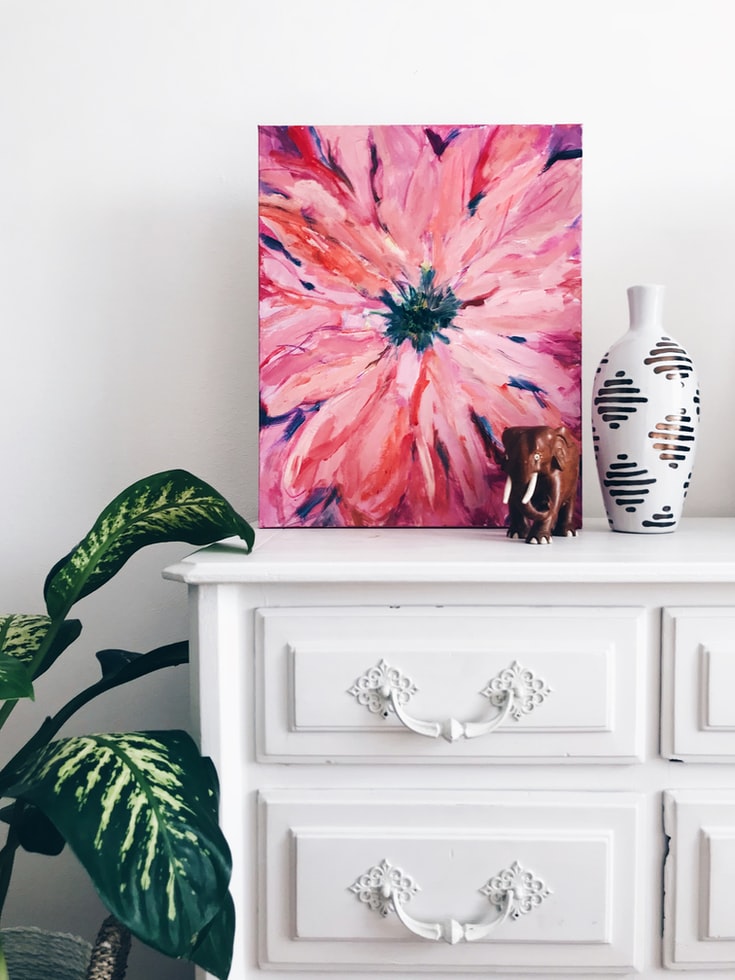 Violet Bedside Table
If your bedside table is filled with scratches, bumps, and dents, giving it a new look with chalk paint will brighten up the entire room. All you have to do is sand out the top layer of your bedside table to smooth out the surface.
You can use a scouring pad to remove any remaining residue and grit sandpaper to strip the table from its previous paint. Use a microfiber cloth to dust any wood and paint particles. Next, add a layer of primer to your freshly sanded table and allow it to dry.
Once you know how to make chalk paint, prepare the paint using one of the recipes mentioned above. Coat the bedside table with a layer of chalk paint and wait till the paint dries. Finish your project with a protective layer of wax for more durability and a better finish.
Chalk-Painted Kitchen Cabinets
Do you want to add some fun colors to your otherwise plain kitchen? Learn how to make chalk paint on your own. Give your kitchen cabinetry a whole new look using chalk paint.
You begin by unscrewing the cabinet doors off their hinges and place them at your workstation. If you don't have a designated workstation, then lay out a huge plastic sheet in your garage or living room, wherever you'll be working on your project.
Sand off the existing paint layer and clean the cabinet doors.
You start with a layer of primer and then move on to actually painting the cabinets. If you want to bring freshness and liveliness to your kitchen, then we recommend going for mint-colored cabinet doors or any crisp shade from the green family.
If you want to bring more warmth to your kitchen, then opting for lemon yellow and even orange would do the trick. Depending on the color of the tiles in your kitchen, paint the cabinets with any fun color of your choice.
Final Thoughts
Working with chalk paint is super fun, but what makes DIY chalk paint so amazing is that it is durable. It is an inexpensive alternative to buying chalk paint from the store.
What's more, you only require 3 simple ingredients if you want to know how to make your own chalk paint. The recipes are also extremely easy to follow, and the paint dries fast.
Finally, the paint color choice is endless when you know how to make chalk paint at home.
Looking for ways to really spruce up your home and give it an exciting look? Check out this article on Glass Spray Paints and how to use them!