You can remove scratches from your stainless steel appliances using sand paper and a sanding block or an abrasive pad and follow up with steel cleaner/polish. OR you could simply purchase a steel repair kit and follow the instructions they provide.
Sanding technique
Only use this technique if your appliance is made of plain stainless steel (i.e. simulated stainless steel or steel coated with a fingerprint-resistant coat WILL NOT WORK). If your appliance gets fingerprint stains easily, it is most likely plain stainless steel.
Prepare the appliance for refinishing by cleaning it thoroughly. Wipe away grime with a microfiber cloth and an ammonia-based glass cleaner. Use a sponge soaked with distilled white vinegar to get rid of stains and lime deposits.
Use 400-600 grit sandpaper. Start with the finest grit paper and squirt some sanding fluid on it. Sand the scratched area first, making sure to go in the direction of the grain. If the scratch is not coming out after a few minutes, change to a coarser grit sandpaper.
Once the scratch has been removed, sand the rest of the stainless steel to match.
Finish by applying a steel cleaner or polish to the entire appliance.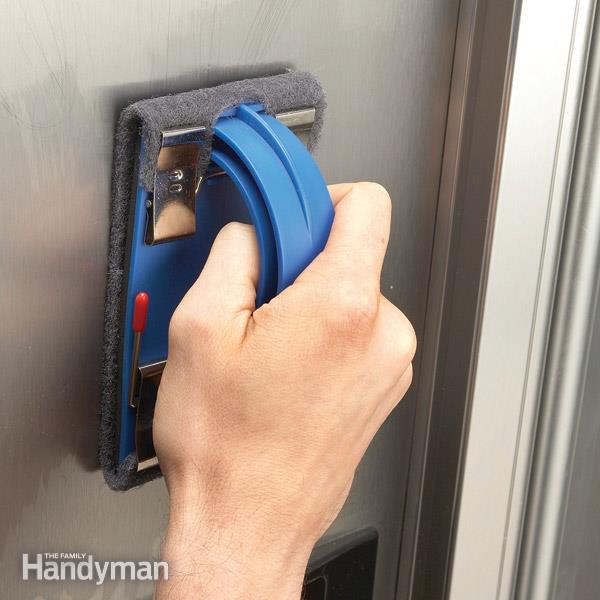 Specifically for sinks (lots of little dings and scratches)
Clean the sink by the same process described above.
Start with a fine-grit (240) sand paper secured to a block. Once you finish sanding the entire sink, wipe away all the dust and scrub the sink with a coarse abrasive pad. Rinse the dust, let dry, and go over the sink again with a fine-grit sandpaper.
Clean the sink again by the same process as before.
Apply stainless steel cleaner in the direction of the grain using a microfiber cloth.
For a shiny look when you're all finished, buff in some baby oil.
Homeguides gave me the info for this project.  Pretty cool idea, right?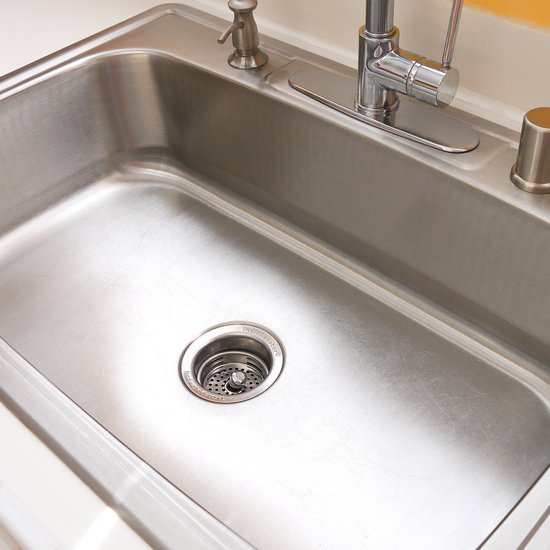 With Liquid Stainless Steel
Instructions from Today's Homeowner
Remove any handles, and sand any rust spots on the appliance
Clean the surface as mentioned above
Spray a rust inhibiting primer on any bare metal and apply painter's tape around the inside of the door
Stir the liquid stainless steel thoroughly, and apply a thin coat of liquid stainless steel with a roller
Drag a wide foam brush over the wet surface to eliminate any lap marks
Once dry apply a second coat, and drag the foam brush over the surface in the opposite direction
Allow to dry and apply one or more coats of clear sealer
Refinsh the handles with spray paint and the reattach them once dry!