Office decorations might seem unnecessary. However, just because it's your office space, that doesn't mean it has to be sterile and boring! Jazz up your office decorations so that you'll actually want to go to work! Here are some ideas to inspire you.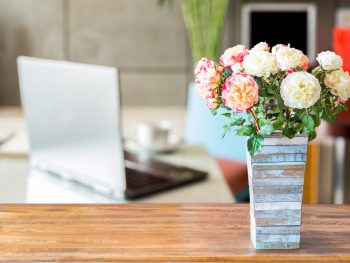 Even if you don't have the ability to decorate your office space much, you can always go simple with a bouquet of flowers. Keep a bouquet of flowers on the desk whenever possible. It goes a long way to provide a bit of natural beauty and motivation to help you enjoy spending time at your desk!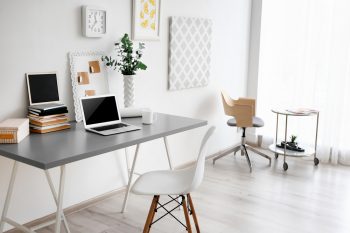 Here is an example of a simple work space that is both beautiful and serene. This office décor has a simple color scheme of white and gray, but includes just a touch of gold that gives it a little elegance. The whole vibe is relaxed without being distracting. I would definitely enjoy spending time in this office!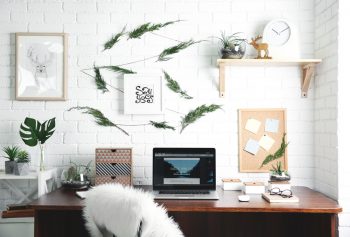 This office décor is an example of how you can make even a tiny corner space feel more inviting. A few small plants and some interesting art provide the perfect backdrop for efficiency. And the comfy chair definitely makes it so you'll want to go to work!
I love this office space, with it's bright blue accent wall. Blue gives a calming vibe that really works, even in an office. Memos and reminders are attached to a decorative grid on the wall. I also love the beautiful pendants hanging just off the desk area. They're close enough to be thoroughly enjoyed, without getting in the way.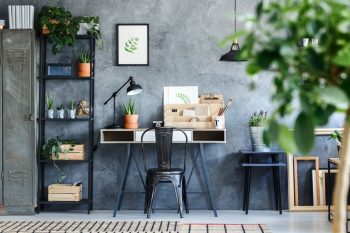 This office space shows you that plants and greenery make excellent office decorations. If you enjoy being outdoors, this is a way to make being inside at your desk much more enjoyable! Don't be afraid to place an entire collection of small plants and succulents all around your office. If you're woried about cluttering your desk, check out some hanging plants!