Yesterday's unisex gender-neutral nursery was usually yellow, and that was only if the parents didn't know whether to use pink or blue. Today, a gender-neutral nursery focuses more on the design of the entire room, not just on colors. Colors are important, but today's parents also want a room that will grow with their child instead of a room their child will grow out of. Here are some non-stereotyped, unisex gender-neutral nursery ideas to inspire you!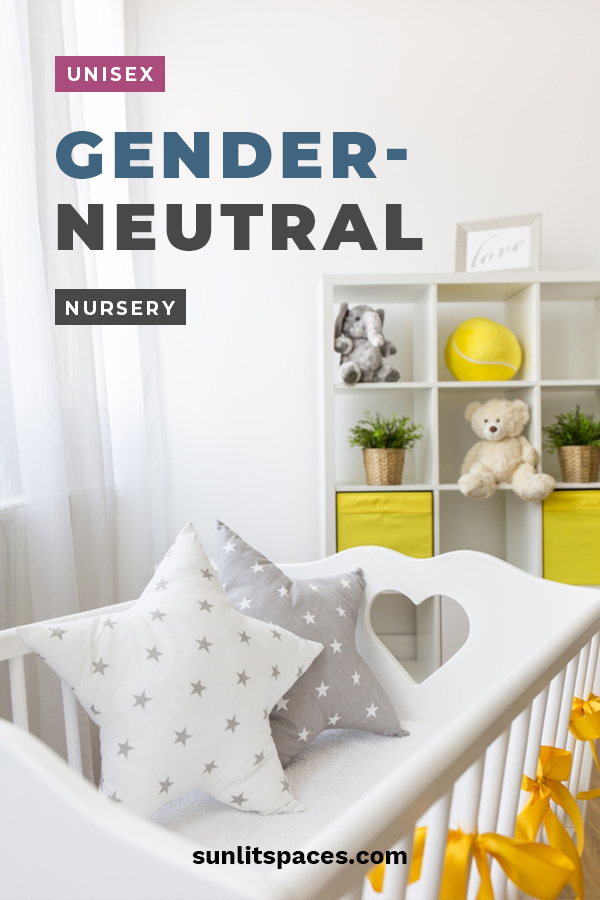 Unisex Gender-Neutral Nursery Ideas
Unisex gender-neutral nurseries focus a lot on the color gray, and we also see black & white palettes growing in popularity. Not only is gray a wonderful neutral, it's so versatile that it grows with your child. Gray also plays nice with most any other color on the wheel. As your child grows, you can be confident that gray will work with any other colors your child wants to add to the decor.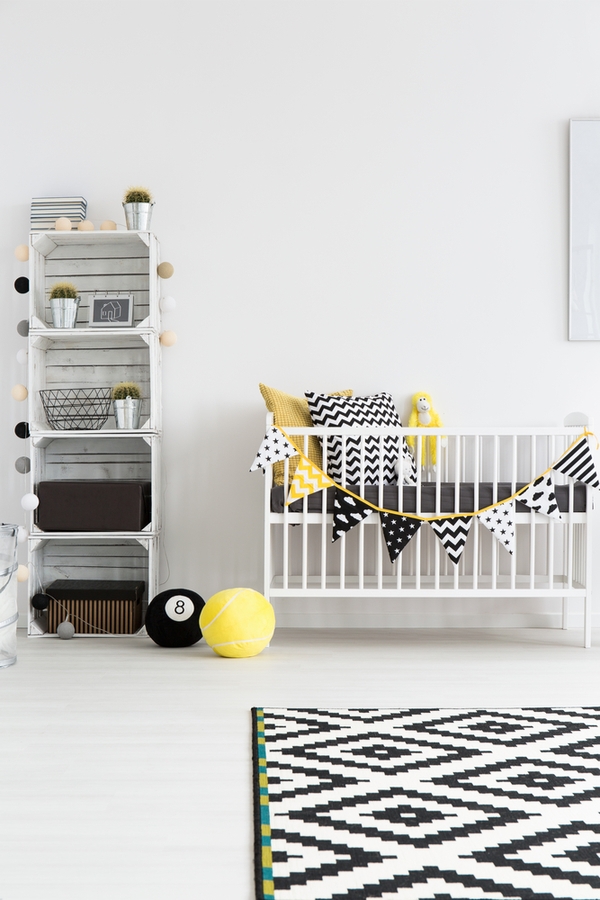 That leads us to gender-neutral storage ideas. In the nursery above, we love the use of white crates for shelving. Not only are white crates genius for holding and organizing all baby's essentials, they're also something that will grow with your child. Restack and reconfigure them, use them to hold your child's books, and later on your teen will continue to get plenty of use out of them.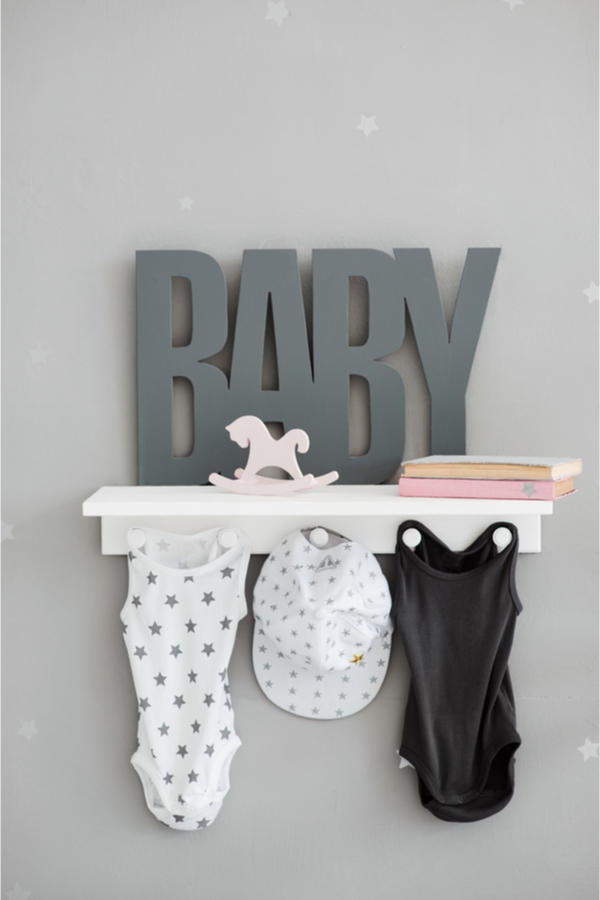 Don't be afraid to include those little elements that make your baby's room a nursery–they just don't have to be pink or blue to be equally cute. We love the wood sign in gray paint. Because it's gray, it can be used over and over again. When you're done with it, pass it on to a friend or family member to enjoy. Here's one in white available at Amazon.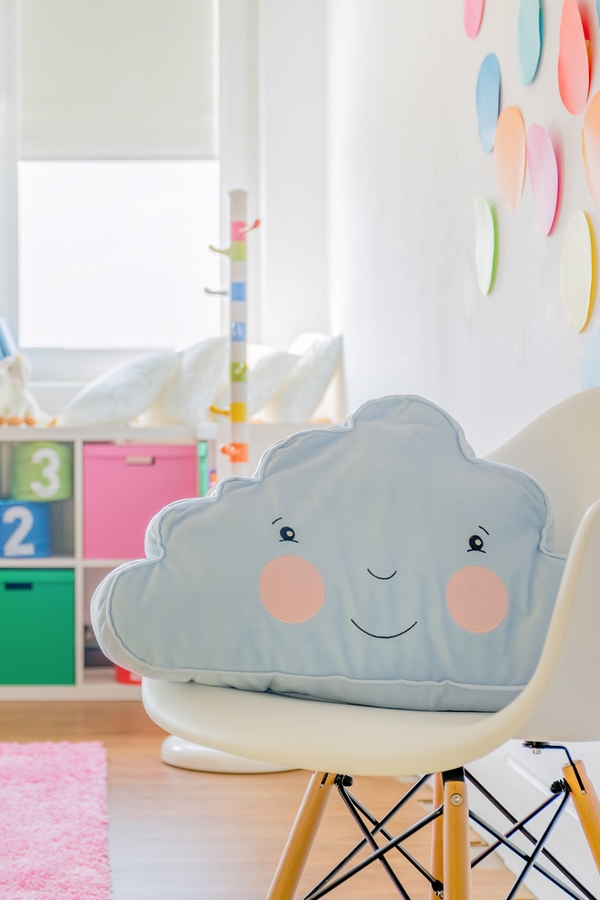 If you're not into using a gray or black & white color scheme in your baby's nursery, you still have options. Another great idea is to use a mix of pastels or bright primary colors to decorate the nursery. It may not last into your child's teens, but it will work for a number of years.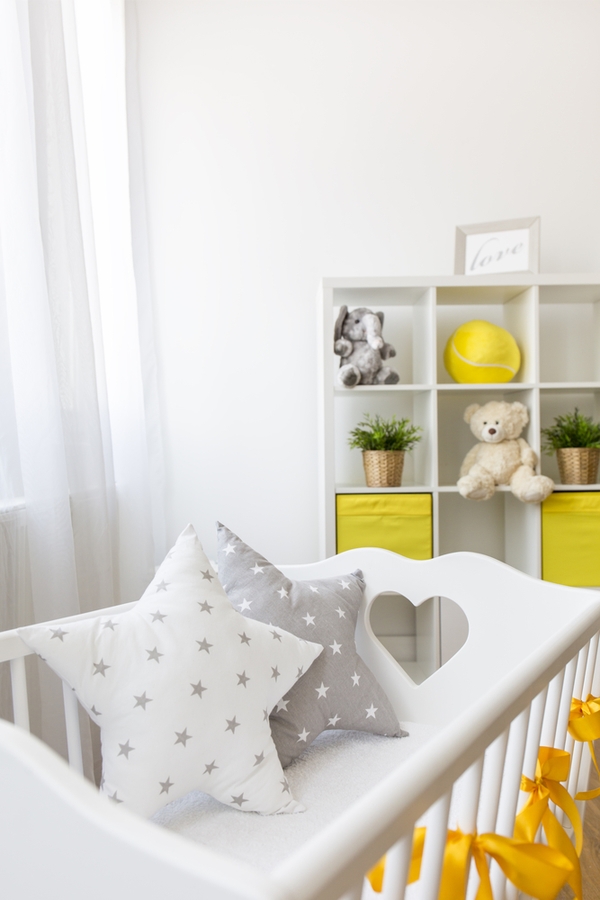 Animal decor, stars, and other motifs work well for both girls and boys, so they all fit into a unisex gender-neutral nursery as well. Another popular trend in gender-neutral nurseries and children's rooms is to include low-light loving houseplants. They add a fun pop of color and help purify the air.
Are you ready to decorate baby's unisex gender-neutral nursery? Don't forget the organization aspect. Here are 8+ Nursery Organization Ideas not to miss!