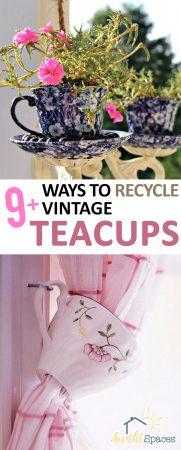 Vintage teacups are some of my favorite pieces to display, but you can only display so many! Grab that collection of vintage teacups, because today I have some ideas to help us both. Here are 9+ ways to recycle vintage teacups.
1.An adorable vintage cake stand is as easy as combining a teacup with a plate. Sarah from A Beach Cottage just glued the two pieces together with clear liquid nails.
2. Would you have thought of this idea? Use vintage teacups as kitchen curtain tie-backs. See more here.
3. If you already make your own candles, run to the thrift shop before you make any more. They look amazing when poured into a vintage teacup!
4. Over at Intelligent Domestications, see how you can recycle vintage teacup and saucer sets into beautiful sconce planters for your deck or patio area!
5. Mandi at Vintage Revivals used teacups and a teapot to create a knock-off of an Anthropologie teapot lamp that is amazing!
6. Make a lovely, one-of-a-kind birdfeeder for your feathered friends.
7. While you're at it, create a birdbath from several teacups and saucers. Morena's Corner painted the pieces for a unified look, but you don't have to.
8. If you've got a piece you really love, try recycling it into a lovely pendant light. Good Housekeeping shows you how.
9. Create a beautiful kitchen herb garden by planting your chosen herbs in vintage teacups. I love this idea!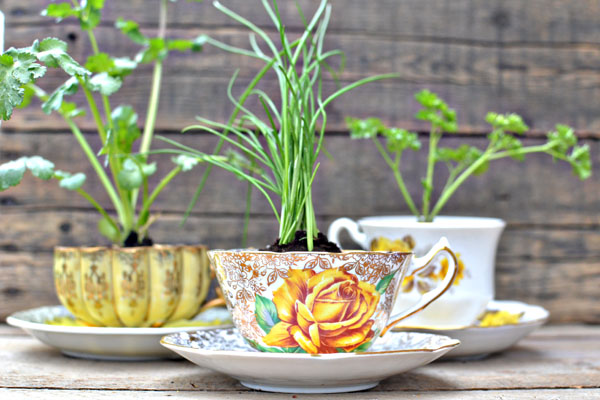 10. Use those vintage teacup and saucer sets to hold and display your favorite jewelry pieces.