I don't know about you, but even though my smartphone calendar helps me out a lot, a desk calendar is insanely effective at keeping me in line. I don't know why that is, but something about it just being there 24/7 is so helpful. It doesn't need a charge, it doesn't demand attention, it just is. So let's look at some gorgeous DIY desk calendars that will pretty up your space while they help you organize your life!
1. What's prettier than a watercolor & ombre color scheme? Not a whole lot in my opinion. This DIY desk calendar combines both for a look you'll love while always knowing exactly what day it is.
2. Click the link at the end of this post to get the free printable file to make a cool geometric desk calendar. Just flip it from month to month. You'll never need another!
3. I love using my calendar as a memory keeper, so this idea is a fun way to combine the two using vintage postcards. Get some pretty postcards at Michaels that are perfect for this project!
4. It's awesome if your calendar not only shows you what's on the docket, but also helps motivate and inspire you to get it done.
5. You can totally DIY a chic desk calendar that complements your office space. This gold polka dot calendar is a great example.
6. Hand stamp a wooden calendar that looks amazing on any desk.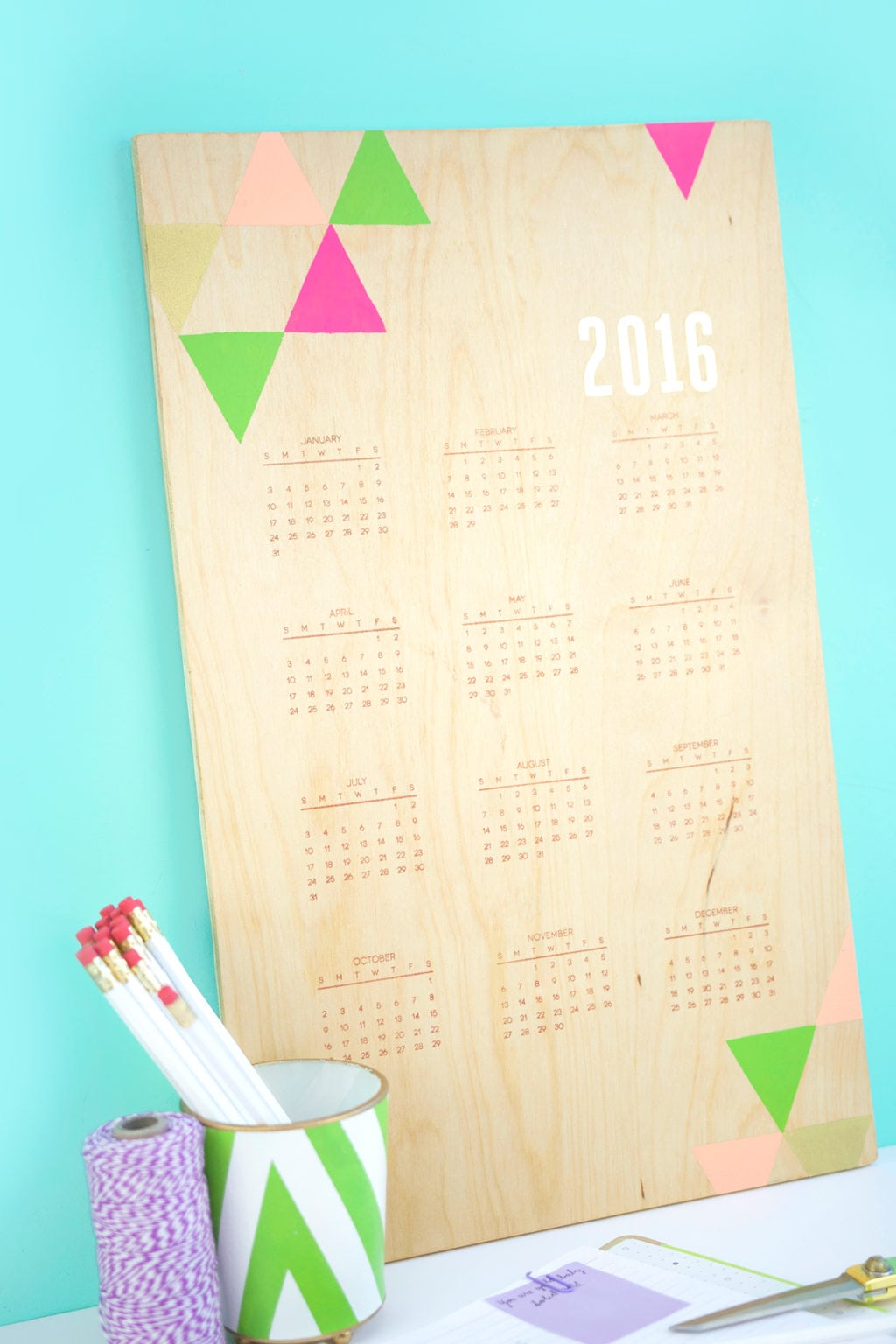 7. This is a pocket-sized calendar, perfect if you ever need to carry it on the plane during a business trip.
8. Here's a great way to highlight those Instagram photos–turn them into a fun flip calendar for your desk.
9. With some wood blocks and vinyl letters, you can create a clock-style flip calendar perfect for the contemporary desk space.
10. For an easy DIY, print up this free calendar and display it on a clipboard from Dollar Tree. It's a no-brainer!
Here are the promised links for the free printables and tutorials featured in this post:
Homemade by Carmona watercolor & ombre desk calendar
Craftaholics Anonymous geometric calendar & free SVG cut file
Design Sponge vintage postcard calendar & journal
Me & My Big Ideas free motivational calendar cards
Brit + Co gold polka dot calendar
Damask Love hand stamped wooden calendar
Clean & Scentsible mini desk calendar {free printable!}
Kristi Murphy Instagram photo flip calendar
Francois et Moi clock-style calendar blocks
Sisters, What! free printable calendar for clipboard display
Don't head out just yet…sneak a peek at these other DIY home ideas:
Crafty Ways to Use Coffee Grounds Around the Home