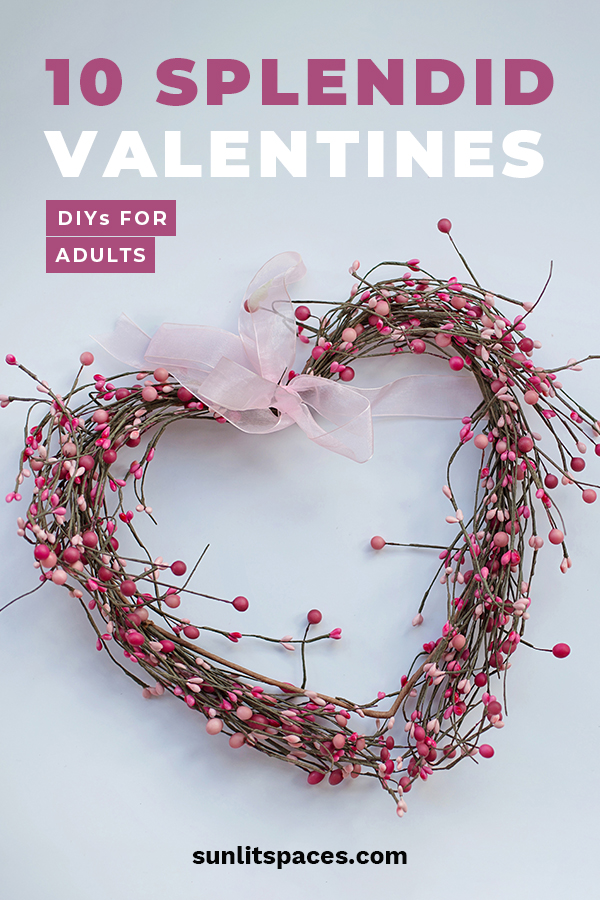 Valentines Day crafts aren't just for kids, and today I've got some ideas that will prove it! Get ready to spoil your friends and loved ones this Valentines Day. You're sure to love these 10 splendid Valentines DIYs especially for adults.
1.These Valentine fabric envelopes are just the thing for a special delivery on Valentines Day. Or make 14 of them for a special February Valentines Day advent calendar. Whatever you do, it's sure to be cute!
2. If you like the cuteness factor of conversation hearts, but don't like to actually eat them, this is for you. Make a garland of them to decorate your mantel!
3. Use silk flowers to make a beautiful floral heart that you can bring out year after year.
4. Isn't this adorable? It's a family platter with everyone's thumbprints made into heart shapes. So easy to do!
5. You + Me on a tree–a romantic way to remember your love every day of the year.
6. A sugar cookie Valentines letter? Yes, please!! Just write on your creation with gourmet food writers you'll find at Amazon.
7. I've said it before, and I'll say it again. I love wreaths! This one made from coffee filters is the perfect Valentines DIY.
8. Send an adorable message that starts with an old rotary phone from a thrift store. Clever!
9. Take the log carving idea one step further by carving it into a tealight holder.
10. Improve your Valentines dinner date and get to know your Valentine even better with these clever conversation stones.
Resources for this post:
Craft-O-Maniac fabric envelopes
The Crafting Chicks conversation heart garland
A Beautiful Mess floral heart
Simply Kierste thumbprint platter
Three Scoops of Love tree carving
Country Living sugar cookie love note
The Bold Abode coffee filter wreath
No Biggie rotary heart phone
Petite Modern Life–Michaels Valentines candle holder
My Creative Days  conversation stones