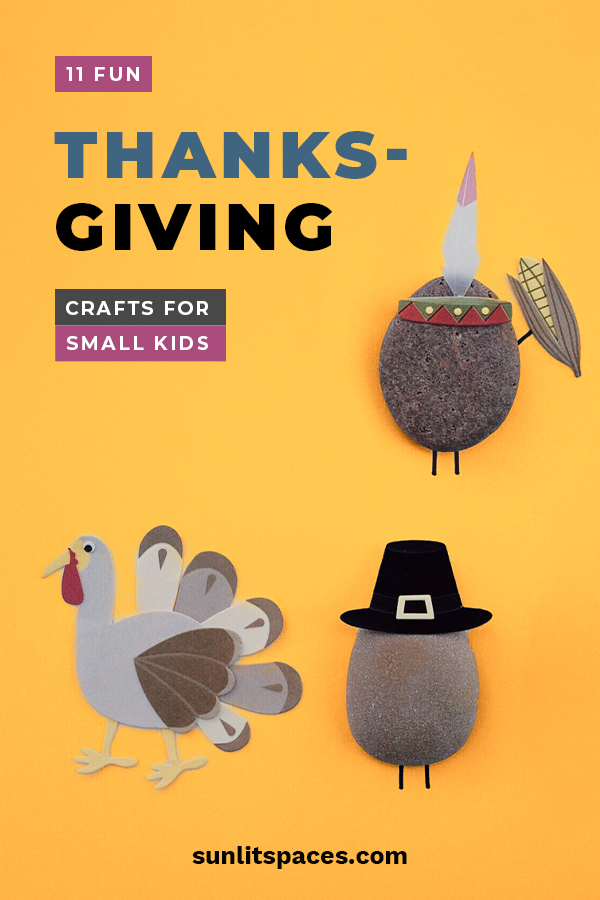 Thanksgiving is right around the corner, so today I have some fun Thanksgiving crafts for small kids. These are some great ways to help your littles have more fun with Thanksgiving. They'll also learn more about what it is and why we celebrate gratitude. Take a look at these 11 ideas!
Good Housekeeping shared this adorable idea. Let the littles be involved with Thanksgiving dinner prep by making turkey leg place cards. All they need to do is stuff brown paper bags with popcorn.
2. Good Housekeeping also suggests introducing the kids to the extended family members before the big dinner. You can do this with a fun family tree craft. They'll love making leaves with their thumbprint!
3. One of the best things about Thanksgiving is the Fall leaves. Celebrate them by helping your small kids make paper plate leaves to decorate the kid's table.
4. Little kids will also have loads of fun making leaf sun catchers for the Thanksgiving windows.
5. Teach the kids about gratitude by helping them make thank you cards for Thanksgiving. They'll get to make handprints for these!
Just in case…you might need a fresh box of crayons. What if I told you that you could purchase them cheap from Color and Draw Products at Crayola?
6. What's more fun to do with Cheerios, eat them or glue them on paper? You can let the little kids decide that when they make cute corn cobs with Cheerios.
7. Wouldn't your littles just love to celebrate Turkey Day with a turkey hat they made by themselves?
8. Small kids enjoy painting, there's no doubt about that. Let them make their own leaf painting to display for Thanksgiving.
9. Here's another way to help children learn more about Thanksgiving. B-Inspired Mama shows you how to make a cute little  gratitude book with them.
10. Pilgrim treat boxes are the ideal thing to keep kids busy after Thanksgiving dinner.
11. Paper and pipe cleaners are all that's required for these paper gourds. That makes for a non-messy craft you and the littles will both love!
Find more crafts for kids here: