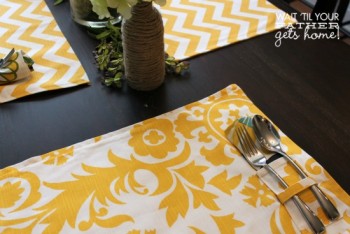 Placemats
Having customized and homemade placemats on the dinner table just brings a sense of accomplishment every time you use them, am I right? The best part about these is that you can make them reversible so that you can have twice as many placemat designs!
This is a project that may be a bit bigger than the rest, but it's still possible! So if you want a fun and creative shower curtain, then try this idea. You can do any design, color, or style you want, so have fun and make it look great.
Can't find a floor mat that matches the rest of your home? No worries! Just sew your own. Choose fabrics that you love and that match your home and then make this great sewing project!
The best thing about this kind of apron is that you can make it unisex and also adjustable (so that everyone in your home can use it). You could even turn it into a family project so everyone loves it when you're finished.
Whether you're making them for school, work, or just recreation, grab bags are a great and easy project to work on. They give you  a place to store your things when you're in a hurry and need to get on the run.