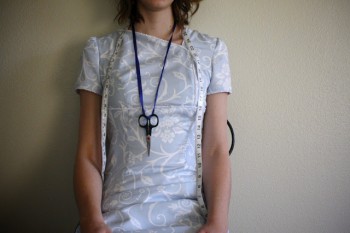 17. Tie a long string (long enough to make a long necklace) through the handles of your scissors. You can wear them around your neck so you always know where your scissors are.
18. Put a rubber band around your sewing machine paddle so that your foot won't slip when you are using it.
19. It's important to keep your scissors sharp, and it can make a huge difference for your sewing projects. To easily sharpen your sewing scissors, use them to cut foil. This hack is quick, easy, and really helpful!
20. To make sure your measurements are always correct, attach a tape measure to the end of your table.