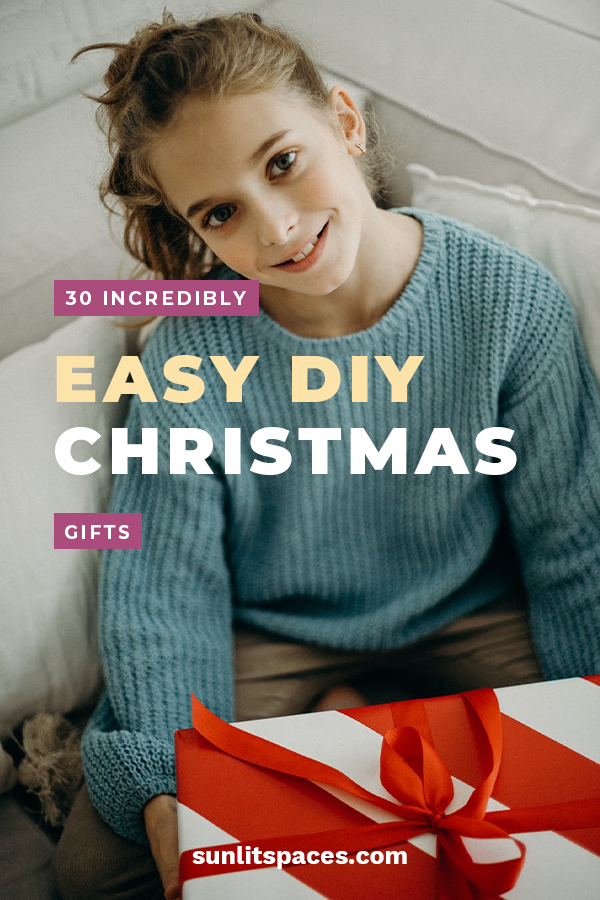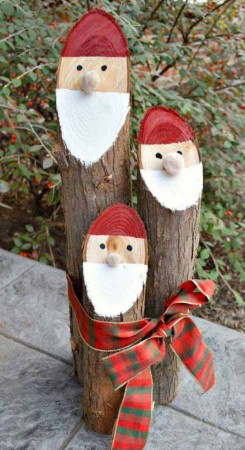 1. Rustic Wooden Santas:  Cut small logs on the diagonal, and paint Santa faces on the cut edge. Tie in groups of 3 with decorative ribbon.
2. Make a rustic tree ornament by tying graduating lengths of ribbon around a cinnamon stick.
3. Make a deliciously scented sugar scrub. Try this gingerbread version.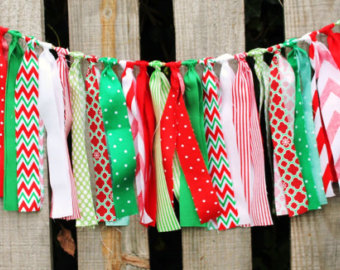 4. Make a simple but festive garland by tying various patterns of holiday ribbon around a length of twine. This would look great on a mantle piece!
5. Got kids? Help them make salt dough ornaments for Grandpa and Grandma. Cut salt dough with cookie cutters and press their little hand prints into them. Poke a hole for ribbon or twine and then let dry thoroughly before hanging.
6. Stuff an oven mitt with various tools for your favorite baker, and tie with festive ribbon.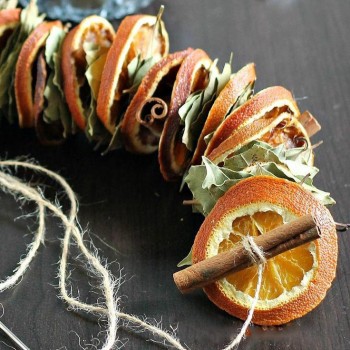 7. Make a beautifully scented and lovely to look at garland out of dried orange slices, bay leaves, and cinnamon sticks.
8. Try Christmas in a Jar. The recipient will love how their home smells!
9. Put together a snow day survival kit: include hot cocoa or tea packets, sugar cookie mix and a snowman-shaped cookie cutter. It's an adorable gift, and is great for those chilly winter days when you're stuck indoors.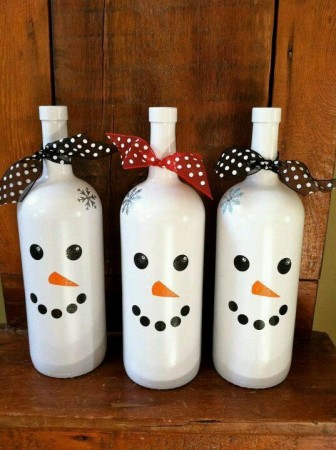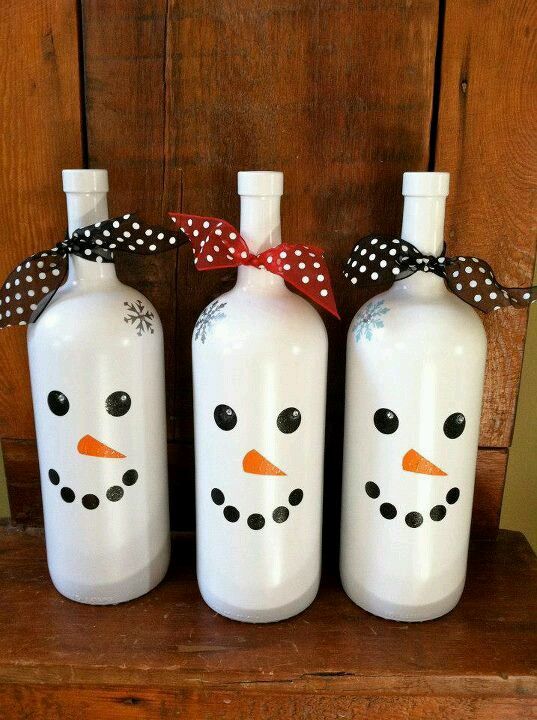 10. Paint empty wine bottles to look like snowmen. Tie with festive ribbon.
11. These hot cocoa gift sets would make great neighbor or teacher gifts.
12. Personalize plain canvas tote bags by monograming them, or let the kids paint them for their friends.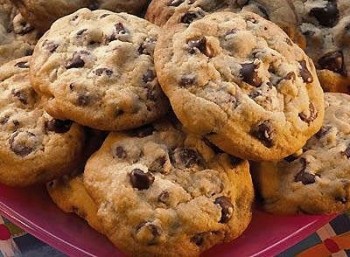 13. Homemade cookies will always be appreciated!
14. Personalized mugs. Purchase plain white mugs and decorate with black sharpie to look like a snowman face, or add a monogram, whatever you like. Bake in a 400 degree oven for 25 minutes to set the design. Done!
15. Make this snow globe to hold a gift card. Adorable!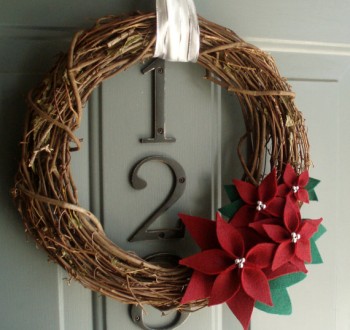 16. Make a rustic holiday wreath using grapevine, winter berries, and felt cut to look like poinsettia leaves. Or, here is the link to purchase!
17. Make the kids a cute crayon and coloring book holder. It keeps everything together on the go.
18. Does someone need a lump of coal? Make "coal" by adding black food coloring to the melted marshmallows when you make rice krispie treats.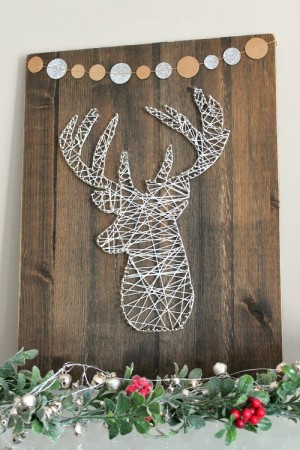 19. Rustic string art looks amazing, and all you need is a piece of wood, stained to your preference, small nails and string. The design possibilities are endless.
20. Your favorite boy will love a superhero bank made from a mason jar.
21. Personalize a Pyrex baking dish or pie plate by etching it with a monogram or the recipient's last name.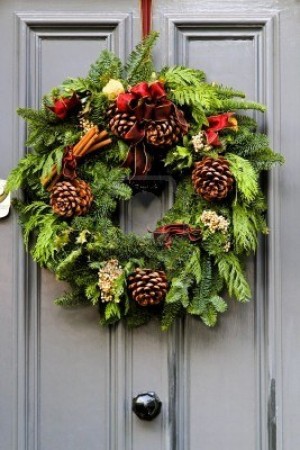 22. Dress up a fresh pine wreath with pinecones, ferns, ribbon and cinnamon sticks. The scent is amazing, and its always great to be gifted holiday decor!
23. Missing someone this Christmas? Send them a Blue Christmas Without You gift in a jar.
24. Make homemade dog biscuits for your favorite pet lover, or your favorite pet.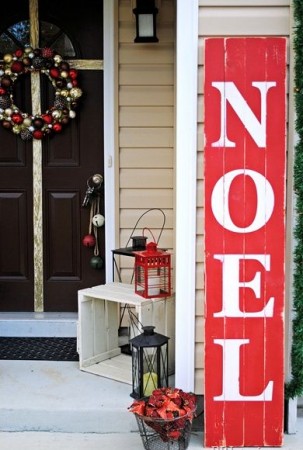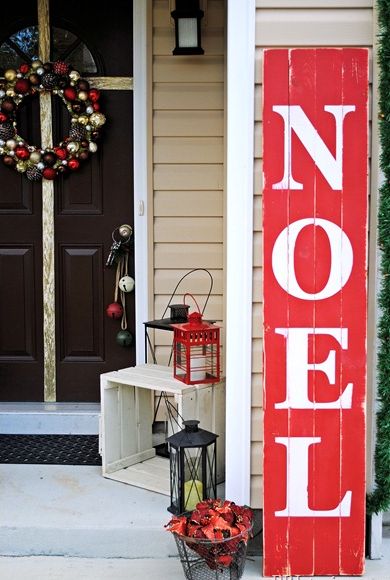 25. Paint a rustic sign with "Noel," "Joy," or "Ho, Ho, Ho."
26. Cute tea wreath for the tea lover on your list.
27. Fill a small clear plastic bag with hot cocoa mix, mini marshmallows and black sprinkles. Label it "Snowman Soup."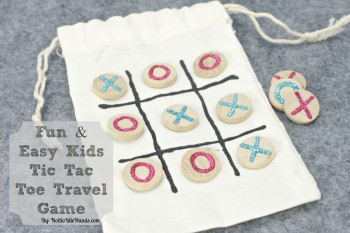 28. Make a simple travel game for a cute kids' stocking stuffer.
29. Know someone who loves to sew? This teacup pincushion is just the thing.
30. Layered cookie mix in a jar lets the recipient bake cookies when they feel the need.