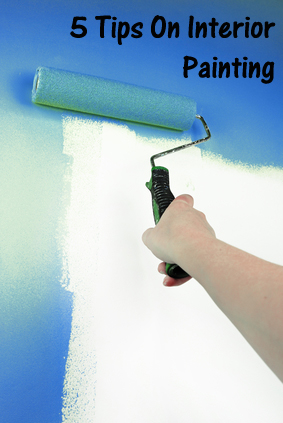 My husband and I have painted a wall or two in our history.  The first house we rented was pee yellow (the entire thing!) when we moved in.  We asked the landlord if we could paint it, hoping to make it more livable.  Over the years, we painted a few more rentals, and when we bought our house, we had practiced enough to know exactly what we were doing, and what products to use.  When it comes to painting your interior walls, there are a few things that you should keep in mind, to get the best results possible.  
Prep.  Get your walls ready for paint.  Sometimes when you have a freshly painted wall, the imperfections can be accentuated.  Be sure to take the time to prepare the walls and patch any holes or dents in the sheet rock.  If you spend all the time to paint, you want the finished product to look good.  Be sure not to skimp on this step.  Wash walls, patch walls and sand walls before you get started.
Get the right equipment.  This means the right tape, paint brushes, rollers, extension rollers, etc.  If you have the right equipment, the ugly painting job just got prettier.  The right tape is going to give you far better results than whatever tape you have laying around (I personally have been suckered by the commercials into using Frog Tape, and it works really well!)  When it comes to interior painting, it really pays off to use nice equipment.  Extension rollers are also nice, and help to give you the vertical edge.
Sample.  Always use a sample before you buy all the paint and get started.  This step may seem like a pain, but it is a bigger waste of time and money to paint a room a color that you don't like, and have to start over.  Just like any sample (carpeting, wood flooring, etc) it is very hard to visualize how an entire room is going to look when you are just going off of a paint swatch.  Some colors of paint can also bring out surprise hues in other things in your room, like carpeting or upholstery. 
Primer.  This is the most-skipped step when painting interior walls.  Please, please, please prime your walls.  This is the step that everyone wants to cut out, but you will be sorry you did.  Primer is made specifically so that paint will stick to it.  You WILL have better results if you use primer, end of story.  Primer seals sheetrock and evens shades out, so that your paint will go on more even, and stick to the walls. 
Sheen.  Choose the right sheen of paint for your space.  Flat paint is really hard to clean.  It gets dirty easily, and does not wipe up well.  It is good at hiding imperfections, however.  We used a flat paint (to over-compensate for the high gloss in the rest of the house) in my daughters room a few years ago.  Nightmare.  It was very hard to keep clean, and was rough to touch.  This could be a good option in some areas, but a child's bedroom or playroom is probably not one of them.  High-gloss paint is really glossy and can cause a lot of light/reflection in the room.  It also shows a lot of detail to the wall, so only choose high gloss if you have a wall with very few imperfections.  Satin or semi-gloss is my favorite to use for interior walls, because it is the best of all worlds.  It is not too shiny, but still cleans up pretty well.
Painting is so much fun, and in my opinion, you get the biggest bang for your buck with paint.  It makes a huge difference in your home, for a very low cost, as home improvements go.