Last week was my birthday, and my cute husband took my 6 year old and 3 year old shopping for me.  He told me after that he didn't intervene whatsoever when they picked out my gifts, he just let them choose things that they were sure I would love.  He is quite possibly the cutest Dad on the planet.  I ended up with a green dinosaur pinata (that the kids were positive I would freak-out over), a couple of iffy smelling candles and some dream-catcher earrings.  Score.  I also ended up with a necklace that is actually pretty cute.  I went to put it away in my jewelry black hole.  I need a new jewelry organization solution because I would accessorize so. much. more if I just had everything organized where I could see it!

Check out all these jewelry organization ideas that I covet.  Now I just need to choose which method is best for my jewelry madness.
Frame
An easy and simple way to store your jewelry is in any kind of frame. Simply apply hooks inside the frame and then hang your jewelry. It's as simple as that.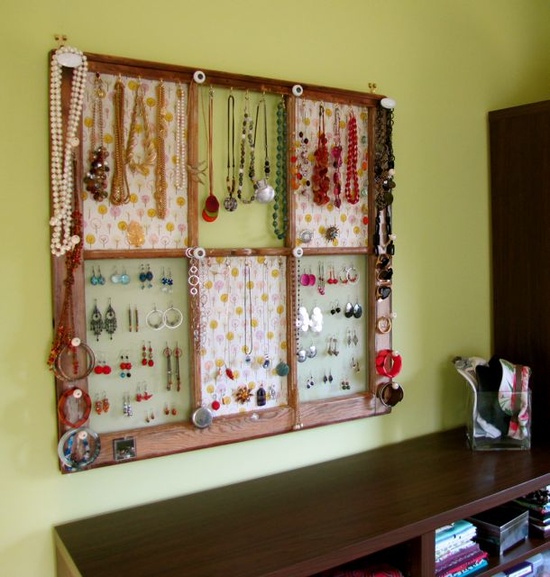 Doorknobs
While this is still in a frame, the object you hang all your jewelry on is a doorknob! You can actually do this idea outside of a frame, but it seems easier inside of one.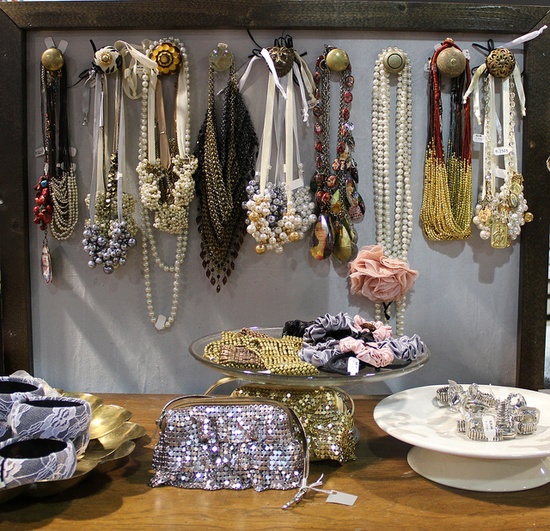 Hooks
This was made for scarves, and it is perfect for that!  It would also be a great necklace hanger. You just need a piece (or pieces) of wood and then attach some awesome and different hooks to it. Simple, cheap, and a great decorative piece as well.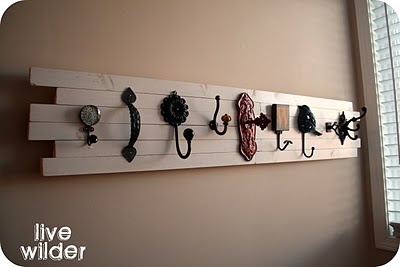 Decorated
Don't just make a jewelry organizer for practical purposes; put in a little extra work and make it look beautiful so it can be a decoration as well! Add some fabric or other fun designs to the backboard to really make your jewelry pop up as well as its storage unit!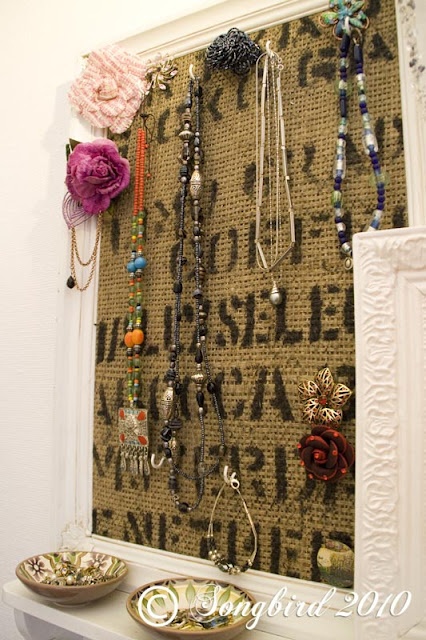 Levels
If you have lots of jewelry, then you may want to make a jewelry organizer that's divided and has layers. This genius organizer has a spot for necklaces, bracelets, and earrings. That way you can know exactly what you have and where to find it without a problem.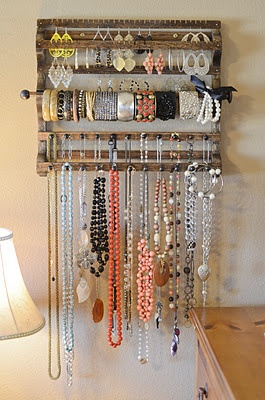 Hardware
Another fun and unique way to store your jewelry is with cabinet handles. Simply attach them to any piece of wood or board (decorated, of course!) and you've got a ton of places to hang all types of jewelry!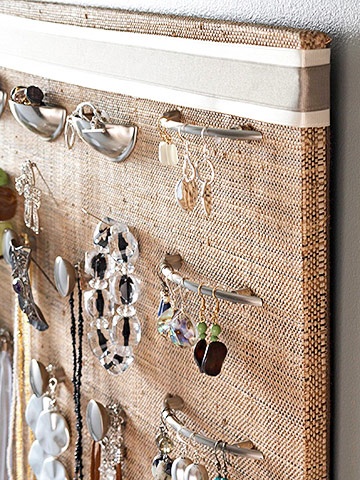 Drawer Handles
This is a lot like the door handles, but they're a lot smaller and easier to maneuver. Because of that, you can attach them to just a single piece of wood and hang the organizer anywhere in your room or bathroom.!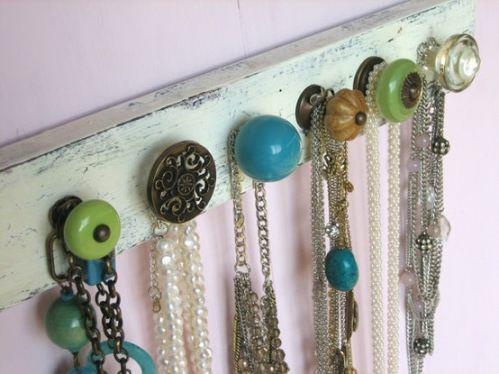 Cork Board
This is a great looking cork board turned into an awesome jewelry organizer! You can have a normal cork board, but with a little creativity and imagination, you can get an awesome storage place for all your jewelry!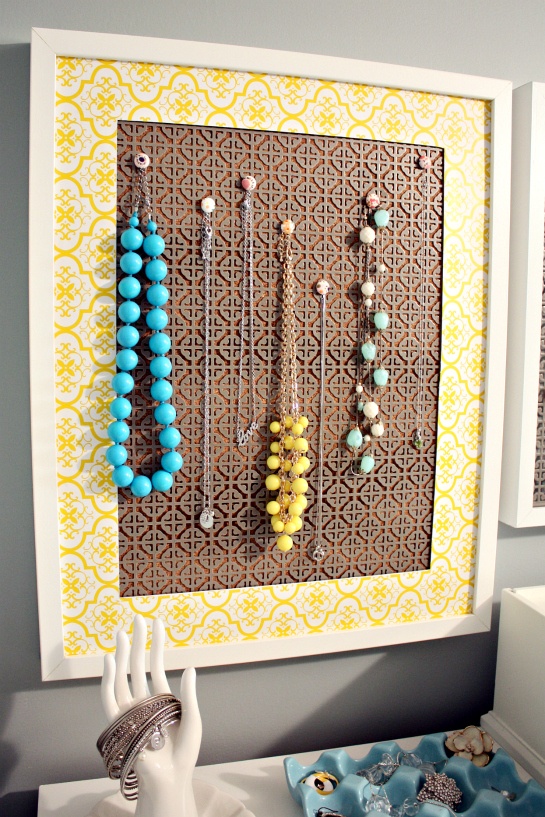 Recyclables
It's pretty common for jewelry to end up in a shoe box somewhere, tangled up and messy. However, take a little time to find some other recyclable materials and decorative paper and you could have an awesome looking jewelry organizer! Take old paper towel and toilet paper rolls and then cover them in the decorative paper to get this great idea!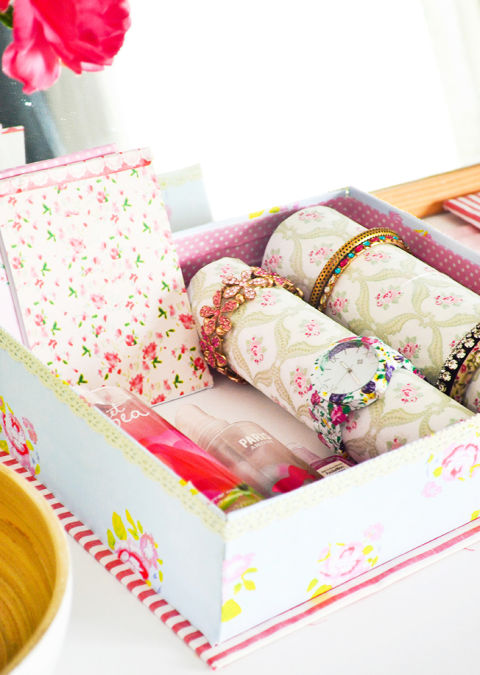 Silverware Trays
Repurpose old silverware trays to get fun and colorful jewelry organizers! Each of the slots you would use for forks, spoons, or knives can now be reused as a place for necklaces, earrings, bracelets, and more!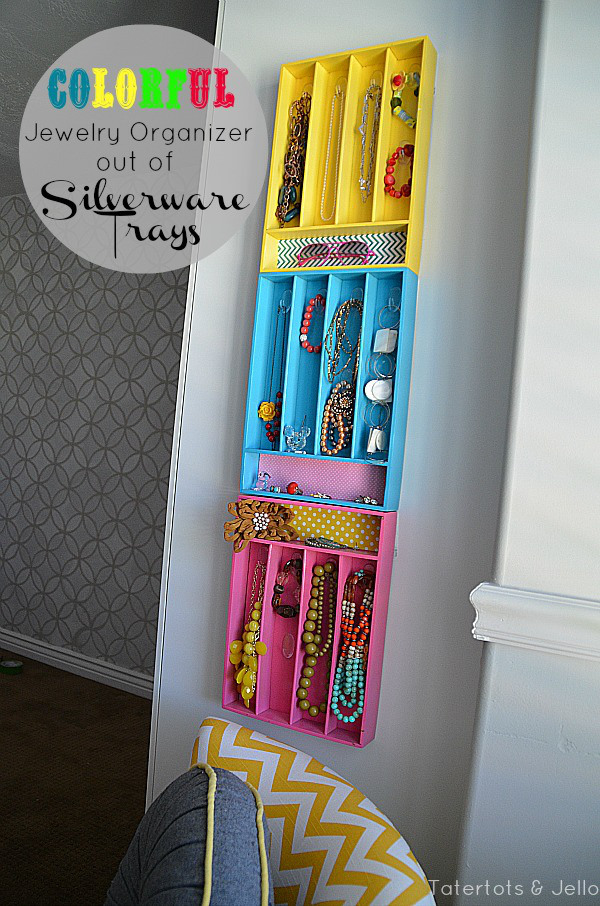 Branches
What a fun and clever idea! This is both decorative and practical! Get a vase or a bottle, stick some branches in it, and then hang all your jewelry off the branches! Just makes sure they're strong enough to hold the weight of however much jewelry that you have!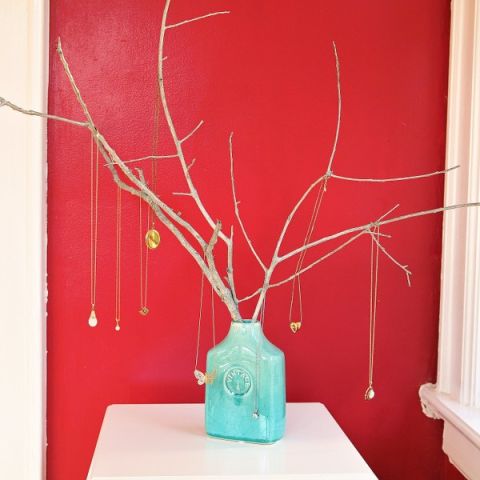 Stacked Terra Cotta
Bring a little bit of the outside feel into your home with this awesome jewelry organizer! It's simply trays and terra cotta pots turned upside down to create a stacked set of tiers for you to place your jewelry. Paint the pots and trays whatever color will accent your room and make it look great!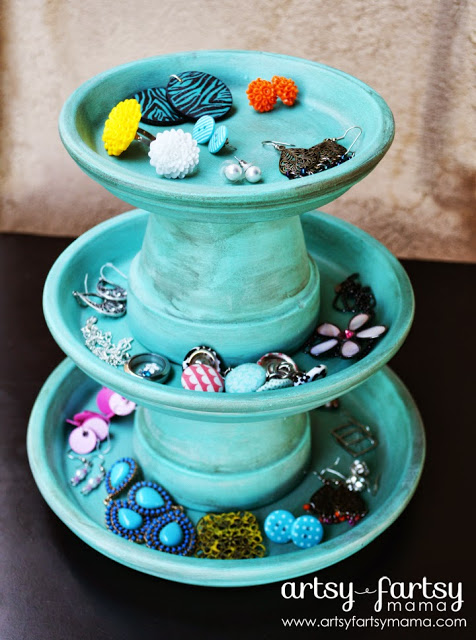 Thread Rack
Talk about creative! You can use a thread rack, but instead of storing spools of yarn or thread, you can use it to store your jewelry! It's simple, cheap, and doesn't take up much space at all, especially when you mount it on your wall!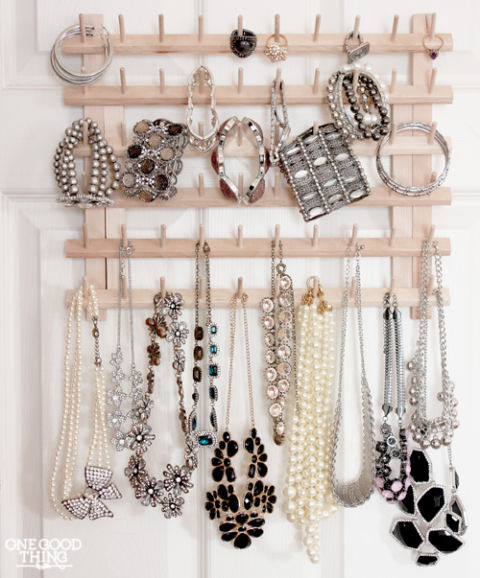 Shutters
Now this is such a fun idea! Repurpose some old shutters by turning them into a jewelry organizer! You can paint the shutters, if you want, or distress them, or just leave them alone. Hang the shutters on the walls and then hang your jewelry from it!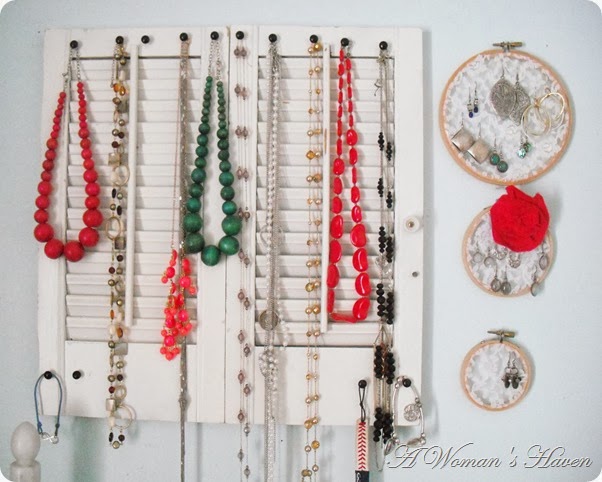 Hinges
This is a great idea because the hinges allow you to fold up your jewelry organizer when you're not using it. This allows you some extra space in your room or bathroom, which is nice, especially if you're in a cramped area.